On a very hot day you can't beat a bowl of ice cold soup. Not everybody will agree with me on this – chilled soups are something you either like or you don't.  My Dad didn't like them, even though he was quite adventurous, loved Asian food and most of the things I put in front of him.
The best known cold soups are probably Spanish gazpacho and Russian Borscht, a soup made with beetroot which can be served hot or cold and which is popular in many Middle European countries. I have about three other favourite recipes including this one for Carrot and Orange. The soup is equally delicious served hot.
Chilled Carrot and Orange Soup
500-600g carrots, peeled and sliced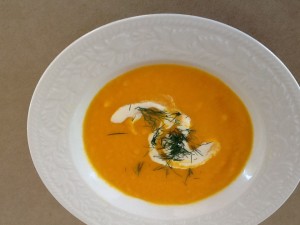 1 large onion, chopped
25g butter
3 cups chicken or vegetable stock
1½ – 2 cups orange juice (fresh or from a carton)
Salt and freshly ground black pepper to taste
Pinch of sugar
Finely chopped fresh dill and cream to garnish
Cook onion in butter till soft, add carrots, stock, sugar and simmer until tender. Blend till smooth in blender, add orange juice to reach desired consistency, check seasoning and chill.  Serve garnished with dill and a swirl of cream. Can be served hot.
Serves 6
Variation: for a creamier soup replace ½ cup of the orange juice with cream.