Google has links to lots of recipes for Lemon Drizzle Cake. My version contains sour cream so it's very moist and will keep in a tin for up to a week. If preferred omit the final lemon icing and serve instead dusted with sifted icing sugar. It's really deliciously lemony and makes a nice dessert served with pouring cream and strawberries.
I found a long narrow loaf tin in a second-hand store recently and decided to use it for this cake.  It was a bit small for the amount of cake batter, so as it rose the cake tumbled over the edges and I had to trim some off in order to remove it from the tin. It also stuck to the sides of the pan – as you can see from the photo. Now I know why the previous owner got rid of it!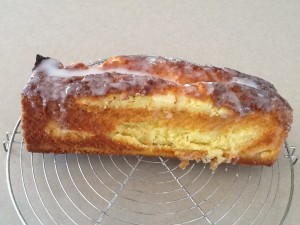 2 large lemons
1½ cups icing sugar
125g butter (preferably unsalted) at room temp
1 cup caster sugar
2 large eggs
pinch salt (not needed if you use salted butter)
1½ cups self-raising flour, sifted
1 cup sour cream or crème fraîche
⅓ cup milk
Preheat oven to 170°C.  Grease a loaf tin or 20cm round cake tin and line the bottom with baking paper. Grate zest from the lemons then juice them. Syrup: Place the juice of one and a half lemons in  a small saucepan with the remaining ¾ cup icing sugar to make the lemon syrup. Icing: Place the juice of half a lemon in a small bowl with ¾ cup icing sugar to make the icing.
Place butter and caster sugar in a food processor or electric mixer and process until light and fluffy. Add eggs one at a time and when thoroughly incorporated add flour, sour cream, milk and all the lemon zest.  Stop motor to scrape down the sides, then process for a few seconds more. Tip batter into cake tin and smooth the top. Bake for 50-60 mins or until well-risen and brown and a skewer inserted into the middle comes out clean.
Meanwhile heat the lemon syrup in the saucepan, stirring to dissolve, then cool a bit. When cake comes out of the oven leave it in the tin.  While it's hot gently make holes all over the cake right through to the bottom with a skewer.  Spoon warm lemon syrup over slowly, allowing it to soak in.
When cake is completely cold remove from tin to a cake rack.  Mix lemon icing and spoon over the cake in a drizzly pattern.