If you're a regular reader of my blog, you will know that I get a lot out of a subscription to Delicious magazine which was given to me as a gift. I am usually inspired to make several dishes each month and have yet to be disappointed.
This recipe for veal terrine is quick and easy to make. Cherries are in season and we had some sitting in a dish in the kitchen as I read this recipe. Their fate was thus sealed. I didn't have any pistachios so substituted macadamia nuts. Pistachios being green would have looked more attractive, but the crunch of the macadamias was great. It's one of the nicest terrines I have ever eaten and the sauce really makes it. As you can see from the photo, I didn't quite get the chicken layer in the middle!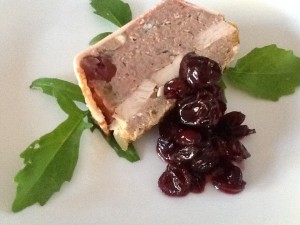 Enough pancetta, streaky bacon or proscuitto to line terrine
1 Tbs olive oil
1 onion, finely chopped
1 clove garlic, crushed
2 tsp thyme leaves
750g pork and veal mince (you could substitute chicken, pork or turkey mince)
1 egg
½ cup fresh breadcrumbs
½ cup pistachio kernels
1 cup pitted cherries
salt and freshly ground black pepper, to taste
1 chicken breast cut into slices
Cherry Sauce:
1 cup pitted cherries
1 cup dried cranberries
finely grated zest and juice 1 orange
⅓ cup sugar
1 cinnamon quill
¼ cup Marsala, port or other fortified wine
Preheat oven to 170°C. Line a 1.5L terrine or silicone loaf pan with pancetta or bacon, leaving enough overhang to fold over the top. The original recipe calls for 20 slices of pancetta. I used about 8 slices streaky bacon and didn't bother with the overhang.
Heat oil in frying pan and cook onion, garlic and thyme for 3-4 mins, stirring, over medium-low heat until soft. Place mince, egg, pistachios and cherries in a bowl. Add onion, season well and mix thoroughly.
Press half the mixture into terrine and arrange chicken slices down the centre. Pack with remaining mixture and fold excess pancetta or bacon over the top. Cover with foil and place in a deep roasting pan. Add boiling water to come halfway up the sides of the terrine. Bake for our hour, cool to room temperature. Place terrine on a tray, cut a piece of cardboard to fit top, weigh down with cans and chill overnight.
Place all ingredients for sauce in a pan and simmer for 15 minutes or until thickened. Cool. Turn out terrine. Slice and serve with the cherry sauce.
Serves 8
Variation: when cherries are out of season use canned ones or leave them out, increase the veal mince to 850g and use 2 cups of dried cranberries in the sauce.