In hot weather Gazpacho, a chilled soup which originated in Andalucia in southern Spain, makes a perfect lunch or starter. I've tried quite a few recipes, but one of the best versions was served for lunch by my Danish friend Elin, while we were living in Copenhagen. I remember thinking how delicious it was (better than my recipe!) and how snazzy the croutons looked cut into soldiers. Elin has given permission for me to share her recipe with my readers.
Gazpacho should be made when you have tomatoes in the garden or can buy local ones in the market. Supermarket tomatoes which have been refrigerated won't taste the same.
This recipe has quite a few ingredients so it's not a five minute job. But the effort is well worth it. If preferred leave out the chilli altogether.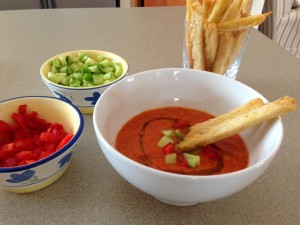 4 large red capsicums (peppers)
2 chillies (preferably peperoncino)
1½ kg good quality vine-ripened tomatoes
10 semi-dried tomatoes
200ml extra virgin olive oil
2-4 cloves garlic, depending on size, crushed
4 Tbs vinegar (preferably sherry)
1 bunch fresh basil
1 Tbs lemon juice
2 small cucumbers
1 loaf day-old Italian bread
2-3 Tbs sugar (depends on sweetness of the tomatoes)
Salt and freshly ground black pepper to taste
To serve:
1 red capsicum (pepper)
1 small cucumber
Extra virgin olive oil
The rest of the bread made into croutons
Preheat oven to 200°C. Place a piece of foil on a baking tray and place capsicum and chillies on top (saves washing up). Bake until blackened, then cool, peel and remove seeds. If they are difficult to peel you haven't cooked them long enough. The chillies being smaller will need to come out much earlier – they are a bit fiddly to peel so just removed stalk and seeds.
Meanwhile pour boiling water over the tomatoes in two bowls, leave for 2 minutes then tip away water, peel and remove hard cores.
In a blender puree the capsicum, tomatoes, dried tomatoes, peeled cucumbers, chilli, vinegar, lemon juice, garlic, basil leaves, 3-4 slices of bread with crusts removed and oil. You will have to do this in 2 or 3 batches. Taste and add sugar, salt and pepper to taste. Chill several hours or preferably overnight.
To serve: If soup is a bit too thick add a little iced water then pour into a soup tureen or ladle into individual bowls. Add some ice cubes (optional) and drizzle with extra virgin olive oil. Serve with the following side dishes so people can help themselves – peeled and diced cucumber, with some skin left on (to add some dark green colour) and diced capsicum. Make croutons from the rest of the loaf of bread – cut bread into "soldiers", spray or brush with olive oil and bake until golden. For those who like spicier food you can serve some extra chopped chillies, but it was hot enough for my liking – probably because I used birds eye chillies rather than peperoncino which are much milder!
Serves 12
Note: sun-dried tomatoes as opposed to semi-dried tomatoes tend to be rather dark in colour which will result in a brownish gazpacho. So best to use semi-dried or leave them out altogether.