Many moons ago when we were holidaying in Brazil our kids decided that the Rio Palace Hotel in Rio de Janeiro made the best waffles. I asked the chef for the recipe and somehow managed to write it down. Communication was hampered by the fact that he only spoke Portuguese and while I do speak Spanish, it's similar but not quite the same!
His recipe started off with a dozen eggs and would have made enough waffles to feed an army, so I divided it by six. It wasn't long before the kids had weekend waffle making down to a fine art, doubling the recipe if they had friends staying … and sometimes even when they didn't. I was always amazed at how many they could demolish.
They're great for breakfast with honey or maple syrup.  For dessert try them with quartered strawberries sweetened with a little sugar and a dash of white balsamic vinegar, caramel sauce and whipped cream, as shown in the photo. The kids never bothered, but if you have time separate the eggs and fold in the lightly whipped whites at the end, by hand, which makes the waffles even lighter. You can use milk instead of cream and water, but the results are crunchier with cream.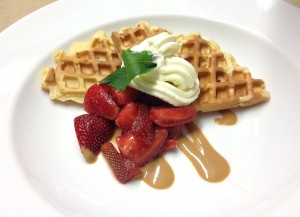 2 tablespoons melted butter
2 eggs
200g or 1¾ cups plain flour, sifted
½ cup cream
½ teaspoon baking powder
½ teaspoon salt
2 teaspoons sugar or honey
½ to ¾ cup water
Using electric beaters or a food processor mix all the ingredients for the waffles, adding enough water to make a thick batter. Preheat an electric waffle iron, butter it and cook the waffles according to the manufacturer's instructions.
Serves 8 for dessert (3 pieces each) or 2 hungry kids for breakfast