A rare roast fillet of beef is handy to have in the fridge in summer. It lasts several days and makes life easy when you have guests staying and limited time to cook, or during a heatwave. It's expensive, but a little goes a long way.
I'm not a big fan of strong blue cheeses, preferring the milder creamier versions. But toned down a bit with yoghurt and vinegar this Blue Cheese Dressing is delicious with salads – especially crunchy cos lettuce –  steaks and dolloped onto baked potatoes.
While this zucchini (courgette) dish goes well with the beef it's also nice on it's own as a vegetarian dish. As you can see from the photo, the zucchini I used were rather larger than those you buy in the shops. Unfortunately that's what happens when you grow your own. One day you look and they're not quite ready to pick. You go back a day or so later and they're huge!
Rare Roast Fillet of Beef
1 fillet beef weighing 1.8 – 2.2kg
salt and freshly ground black pepper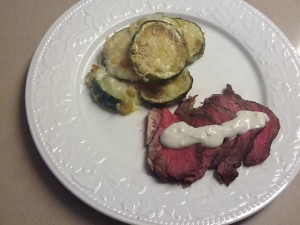 olive oil
Preheat oven to 200°C. Trim meat of any excess fat and sinews. Place in a baking dish, drizzle with oil and season. Bake for 25-40 minutes depending on weight of fillet. A meat thermometer is useful for deciding when to take the meat out. Cool then refrigerate, covered. Serve thinly sliced with the Blue Cheese Dressing.
Blue Cheese Dressing
100g blue cheese
2 heaped Tbs plain yoghurt
1-2 Tbs white Balsamic vinegar, to taste
1 tsp sugar
Place all ingredients in food processor and mix, adding a little water to give a pouring consistency. Keeps for a week in a jar with a lid in the fridge. Shake before using.
Zucchini Bake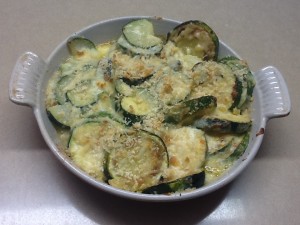 750g zucchinis, thinly sliced
30g butter
1-2 Tbs olive oil
Sauce:
25g butter
25g flour
2/3 cup grated Parmesan cheese
2/3 cup milk
1 egg, beaten
salt and freshly ground black pepper
½ cup breadcrumbs (about a slice of bread whizzed in food processor)
Preheat oven to 200°C. Heat half the butter and oil in a large frying pan. Sauté zucchini slices until lightly browned on both sides. Drain on paper towels. Heat remaining oil and butter and fry the rest of the zucchini. Make sauce – heat butter in small pan, add flour and cook for 1-2 minutes stirring, gradually add milk, then lastly cheese and seasoning. Remove from heat and mix in the egg. Fold in the cooked zucchini, tip into a buttered shallow ovenproof dish (about the size of a quiche dish) which has been sprinkled with breadcrumbs. Top with remaining breadcrumbs and bake 30 minutes until brown and bubbling.
Serves 6 as a side dish or 3-4 as a vegetarian main