A dip or pâté is nice to serve when friends come round for a drink or as a prelude to an informal lunch.
Most supermarkets carry a wide range of options, but something home-made is tastier, cheaper and you know exactly what's in it. I was looking at a commercial crab dip in the supermarket the other day and was amazed to see that the crab content was only 17%. This recipe came from my mother-in-law and contains at least 50% smoked trout. It's a real winner.
Last winter we planted a native Australian citrus shrub from Queensland called a Finger Lime. When Matthew reads this he will say "get your pronouns right", so okay he planted the Finger Lime. The fruit is made up of tiny balls of lime juice, a bit like a pomegranate only smaller. Ours hasn't produced any fruit yet but when it does I am looking forward to folding some little citrus balls into this pâté.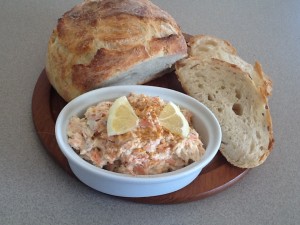 1 whole smoked trout (about 350g)
250g Philadelphia-style cream cheese (at room temp)
¼-½ cup cream or sour cream
Grated rind and juice of one small lemon or half a large one (see note)
salt, freshly ground black pepper and cayenne pepper to taste
Remove meat from trout, discarding skin and bones. Flake into chunks with fingers checking carefully for bones. With electric beaters or by hand beat cream cheese until smooth then gradually beat in enough cream to make it light and fluffy. Add lemon juice, rind, salt, pepper and a little cayenne pepper. Gently but thoroughly mix in the smoked trout. Pile roughly into serving dish, sprinkle with a little cayenne pepper and chill. Serve with crusty bread, toast or crackers as an appetizer. Can be refrigerated for up to a week and frozen for up to a month. For a low-carb option serve with vegetable sticks.
For a cocktail party: make toast triangles (four per slice of bread, crusts removed), and put some paté on each. Garnish with a tiny triangle cut from a thin slice of fresh lime with the skin left on. One slice will cut into many pieces. Top with a piece of dill.
Note: you can grate the rind or remove it with a vegetable peeler, then chop finely – this results in chunkier bits of rind which I prefer.
Variation: Smoked Salmon Pâté: use smoked salmon instead of trout.