My daughter-in-law Amy created this tasty salad. I've added the rosemary and semi-dried or sun-dried tomatoes, which are both optional additions. It makes a perfect weekend lunch with some crusty bread and maybe a glass of Sauvignon Blanc.
Preserved lemons are a Middle Eastern ingredient which you can buy in specialty shops. They are quite easy to make and I will post the recipe in due course.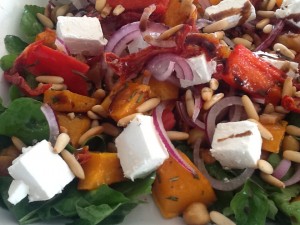 About 4 cups 2cm square pumpkin cubes
1 red capsicum (pepper) cut into 2-3cm cubes
1 can chick peas, rinsed and well-drained
Extra virgin olive oil
1 Tbs fresh rosemary, finely chopped
Salt and freshly ground black pepper
4-6 cups rocket, washed and dried
Balsamic vinegar
½ small red onion, finely sliced
1-2 Tbs preserved lemon, rinsed, pulp discarded, finely chopped
200g feta cheese, cut into 1.5cm cubes
½ cup semi-dried or sun-dried tomatoes thinly sliced (optional)
3 Tbs pine nuts, lightly toasted
Preheat oven to 200°C. In a bowl mix pumpkin, capsicum and rosemary. Drizzle generously with olive oil and season to taste. Spread out on an oven tray lined with baking paper (to save on washing up!) and bake for 15-20 mins or until vegetables are tender and starting to blacken a bit at the edges. Add chick peas to oven tray for the last few minutes of cooking and stir to coat with oil.
Remove from the oven and allow to cool a bit. Dress rocket with oil and vinegar and arrange on a serving platter or 4 individual plates. Top with the roasted pumpkin mixture, red onion, preserved lemon, feta, dried tomatoes and pine nuts. Drizzle with a little more oil and serve.
Serves 4