When I worked for the British Mission to the UN in Geneva, located on the 5th floor of a large building on the Rue de Vermont, there was a patisserie at street level. By mid-morning irresistible smells came wafting up through the office window, so someone was dispatched to buy a few slices of apple tart, still warm from the oven, to keep us going till lunch time. Those were the days when I could do that on a regular basis, without it going straight to my hips!
Before I left Switzerland I asked the owner if she would part with the recipe and she was happy to do so. Puff pastry is a bit of a pain to make, so I usually buy it. That is until I discovered Nigella Lawson's food processor version which is a cinch to make and of course much nicer. Actually any pastry will do and you may prefer to use shortcrust pastry, bought or home-made.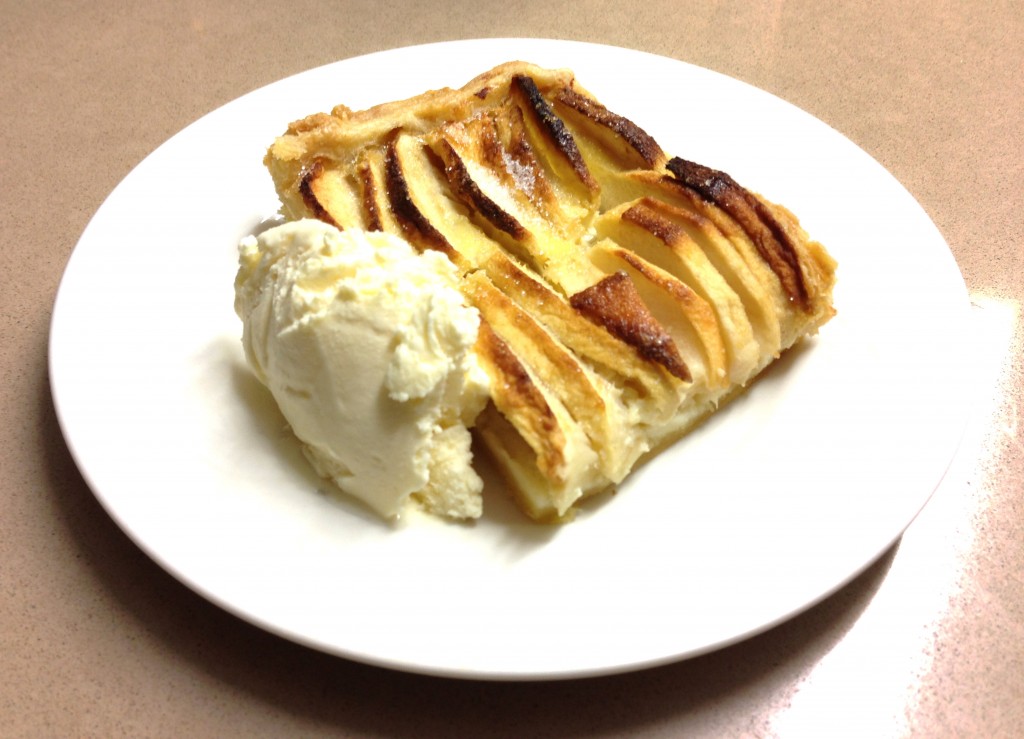 Nigella's Food Processor Puff Pastry
2 cups plain flour
Good pinch of salt
250g butter, cut into ½ cm slices
2 tsp lemon juice
4-5 Tbs cold water
Filling:
1 kg eating apples, peeled and sliced
2 eggs
2 Tbs plain flour or almond meal
½ cup milk (or half milk and half cream)
2 Tbs sugar
2 Tbs unsalted butter
Extra sugar
Pastry: place flour, salt and butter in food processor. Pulse until butter has been cut into small pieces but is still visible. With the motor running add the lemon juice and enough water for the pastry to start to stick together, then stop immediately. Don't process for long because you want to keep the pieces of butter intact.
Tip out the sticky crumbs and with floured hands form them into a neat rectangle about 15 cm long and about half as wide. Wrap in plastic wrap and refrigerate 30 mins. Remove from fridge and roll pastry until the long side is twice as long. Fold one end into the middle and the other end over it to the edge, like an envelope. Turn pastry so the open ends are at the bottom and top, then roll again into a long rectangle. Repeat the folding and rolling twice, but the last time don't do the final rolling – leave it with the open ends. Wrap in plastic wrap and refrigerate several hours or up to three days. Can be frozen.
Preheat oven to 180°C. Remove pastry from fridge and, unless you're working on a hot summer's day, let it stand for a short while, so it's not rock hard. Roll out on a floured surface and use to line a rectangular metal Swiss roll or slice tin, trimming off any excess. Mine is 35x25cm. Arrange rows of overlapping apple slices over the base. Be generous – the pie should be very full with the apple slices standing almost upright.
In a small bowl with a fork or balloon whisk, mix egg with flour (or almond meal) and sugar, then gradually mix in milk/cream. Brush over the apples to moisten them, then pour the rest over. Tilt tin to ensure it reaches the corners, then dot the apples with very small pieces of butter and sprinkle lightly with extra sugar. Bake for about an hour or until well browned, almost burnt in places, to give it that authentic European patisserie look. If liked shake over some extra sugar and serve warm, just as it is, or with cream or ice cream, or both!
Serves 12