I started making this Moroccan lamb when we were living in Paris. I served it when my Dad came over from the UK with the rest of my family to celebrate his 80th birthday in 2000. The recipe has evolved over the years and become a family favourite. Our eldest son James makes it so regularly it has become his signature dish.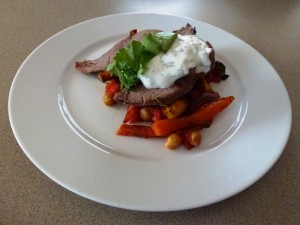 1 leg or shoulder of lamb, trimmed of excess fat
1/3 cup lemon or lime juice
1 Tbs tomato paste
1 tsp ground cumin
1-2 tsp sambal ulek (harissa or chilli paste)
1-2 large cloves garlic crushed 
1 Tbs fish sauce
Moroccan vegetables:
Oven roasted vegetables
1 can chick peas, drained
1-2 tsp cumin, to taste
Mint Yoghurt:
1 cup thick Greek yoghurt
½ cup chopped fresh mint
1 clove garlic, crushed
pinch salt
1/2 tsp honey
Place lamb in a roasting pan. Combine remaining ingredients and spread over both sides of lamb. Cover and leave to marinate for several hours or overnight in the fridge.
Preheat oven to 160°C. Remove lamb from fridge and allow to come to room temperature, then add 2 cups water. Bake lamb, covered tightly with aluminium foil, for 3 hours, turning and basting every hour or so. Increase temperature to 180°C, remove foil and cook for another 30-40 mins. If all the liquid has evaporated, add it bit more water. Meat should be very tender and almost falling off the bone. Slice and serve on a bed of Moroccan vegetables, garnished with a dollop of Mint Yoghurt.
Moroccan vegetables: Click on the link to find the recipe for oven roasted vegetables. Mix in the chick peas and cumin about 10-15 minutes before the vegetables are ready.  As the lamb and veggies need different oven temperatures you may prefer to make the roast vegetables earlier in the day, mix in the chick peas and cumin and leave the baking tray aside. Then to serve, if they have got cold, put the tray into the oven for the last 20-30 minutes of cooking time of the lamb, then they will both be ready at the same time.
Mint Yoghurt: mix yoghurt with remaining ingredients and refrigerate until serving time.
Serves 6-8