I started making this Moroccan lamb when we were living in Paris. I served it when my Dad came over from the UK with the rest of my family to celebrate his 80th birthday. The recipe has evolved over the years and has become a family favourite. Our eldest son James makes it so regularly and it has become his signature dish.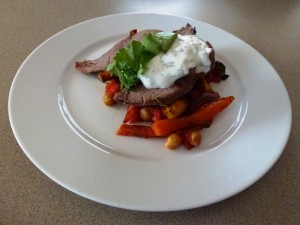 1 boned leg of lamb, trimmed of excess fat
1/3 cup lemon or lime juice
1 Tbs tomato paste
1 tsp ground cumin
1 tsp sambal ulek (harissa or chilli paste)
1 large clove garlic crushed (garlic fans, use 2)
1 Tbs fish sauce
1/3 cup oil
Moroccan vegetables:
Oven roasted vegetables
1 can chick peas, drained
1 can tomatoes, drained and chopped
1-2 tsp cumin, to taste
Mint Yoghurt:
1 cup thick Greek yoghurt
½ cup chopped fresh mint
1 clove garlic, crushed
pinch salt
1/2 tsp honey
Butterfly the lamb to a fairly consistent thickness and place in a glass or pyrex dish. Butterflying just involves a couple of cuts through the very thick parts to open them out a bit. You will still have some thinner and some thicker parts, so some meat will be less well cooked than others – something to suit all tastes. Combine remaining ingredients and spread over both sides of lamb. Cover and leave to marinate for up to 6 hours, in the fridge.
Preheat oven to 200°C and bake lamb, uncovered, for 40-60 minutes, depending on the weight of the meat and how well done you like it. Best to use a meat thermometer. Cover loosely with foil and leave to rest for 10 minutes. Carve thinly and serve on a bed of Moroccan vegetables, garnished with a dollop of Mint Yoghurt. If liked drizzle some pan juices around the plate. A couscous dish on the side goes well.
Moroccan vegetables: when the oven roasted vegetables are almost ready, add the chick peas, tomatoes and cumin and return to the oven for about 10 minutes or until heated through.
Mint Yoghurt: mix yoghurt with remaining ingredients and refrigerate until serving time.
Note: if preferred cook the lamb on a BBQ.
Serves 8