Matthew's not mad about bananas or coconut, so I usually avoid using them in cakes. Sometimes I sneak them in and hope he won't notice.
This recipe only uses one banana, so the flavour isn't overpowering. It's delicious served fresh on the day it's made. Or you can keep it in the fridge, well-wrapped, for up to a week and serve it toasted.
As it doesn't contain any fat this banana bread is quite healthy, eaten on its own. But of course it's even nicer with things on top! Serve it toasted for breakfast, topped with butter and jam; with a sliced banana, ricotta cheese and a drizzle of honey or with home made strawberry jam and ricotta as shown in the photo. I like to freeze the individual slices wrapped in plastic wrap so they can then be toasted from frozen and are ready in a jiffy.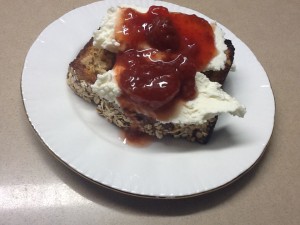 1 ripe banana
2 eggs
1 cup buttermilk (see note below)
2½ cups self-raising flour, sifted
½ cup oats
½ cup desiccated coconut
¼ to ½ cup honey, to taste
1 tsp vanilla essence
½ cup sunflower kernels (shelled sunflower seeds)

Preheat oven to 180°C. Grease a large loaf tin and line the bottom with baking paper. Place banana in food processor and process till smooth. Add remaining ingredients except sunflower kernels and process just enough to mix. Add sunflower kernels, tip into prepared loaf tin and smooth the top. Sprinkle with a few more oats, press them in, then bake for an hour, or until well-risen, golden brown and a skewer inserted in the middle comes out clean. Can take up to an hour and a quarter, depending on your oven. Cool and serve fresh or toasted. Can be frozen.
Makes one loaf
Note: if you don't have buttermilk substitute half milk and half plain yoghurt. If you don't have any sunflower kernels, double the oats or the coconut.