Served with oven chips and coleslaw or a mixed salad this healthy version of Kentucky Fried Chicken – baked in the oven, rather than deep fried – is popular with kids. It's not haute cuisine as you can see from the photo, just a very basic, economical family meal. It featured regularly in our house when the kids were growing up.
A salsa made from diced fresh mango or peach, red onion, fresh ginger, Thai sweet chilli sauce and chopped coriander is a nice addition for the adults. A diced avocado is an optional addition.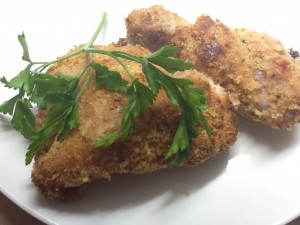 1 packet corn chips (see note below)
1 packet breadcrumbs (preferably Japanese Panko crumbs)
1 kg chicken pieces with skin
½ cup plain flour
1-2 tsp powdered chicken stock or salt or celery salt
Freshly ground black pepper to taste
3 tsp of dried herbs and spices of your choice (paprika, oregano etc)
1 egg plus 2 Tbs milk, beaten
Spray oil (olive, canola, whatever you use)
Preheat oven to 180°C. Place some of the corn chips in a food processor and process to make crumbs. Mix with the packaged breadcrumbs in a proportion of about two to one. Place about 2 cups in a shallow bowl and keep the rest in a sealed container for another time.
Mix flour with salt, pepper, herbs and spices in another shallow bowl. Be generous with the chicken stock powder or salt – it needs it. Mix the beaten egg and milk in a third bowl. Coat chicken pieces with seasoned flour, then with beaten egg and lastly with the crumb mixture, patting it on well. Place chicken on a baking try lined with non-stick baking paper – not necessary but saves on washing up. Spray chicken lightly with oil. Bake for about about 45 mins, turning once and spraying the other side with oil about halfway through. The chicken is ready when it's golden brown and cooked through – test with a sharp knife.
Serves 4-6
Note: if you don't have corn chips substitute cornflakes.
Oven Chips: cut potatoes into thick chunky chips and cook in boiling salted water for 8-10 minutes or until half-cooked. Drain and pat dry with paper towels. Place in a bowl with a small slug of olive oil, mix to coat, then add a shake of plain flour and turn again to coat. Arrange chips in a single layer on a tray lined with baking paper, sprinkle with coarse salt and bake for 45 minutes on the shelf above the chicken, or until golden brown. The flour is optional but gives the chips a nice crunchy coating.