We eat salmon fillets about once a week. It's quick and easy and we love it. Sometimes I spread the fish with a mixture of grated fresh ginger and Thai sweet chilli sauce and bake it in a very hot oven on lightly oiled aluminium foil for about 8 minutes. Other times I pan fry or bake the seasoned salmon and serve it with this sauce, adapted from a recipe by French chef Michel Roux. It's really just a thick herby, tomatoey vinaigrette.
In 1967 Roux opened Le Gavroche in London with his brother Albert. The restaurant became the first in England to win three Michelin stars. In 1972 they opened The Waterside Inn, which went on to become the first restaurant outside France to hold three Michelin stars for over 25 years and is now run by Michel's son Alain.
This sauce is great to have in the fridge because it goes with all sorts of things and keeps for at least a week. In fact I think it improves after a day or so. It goes well with roast chicken or steak and is absolutely delicious served in half an avocado. The original version uses tarragon which definitely gives the sauce a distinctive flavour. But fresh tarragon is not always available, so vary the recipe with different herbs and see what you like best.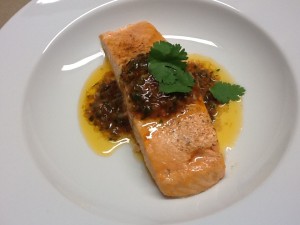 1 cup mixed fresh herbs, loosely packed (see note)
3-4 French shallots, peeled (or substitute one small onion)
¾ cup vegetable oil e.g. canola
2 Tbs white wine vinegar or lemon juice
½ cup tomato ketchup
A few drops of Tabasco
2 tsp Worcestershire sauce
Salt and freshly ground black pepper, to taste
Place chopped onion or shallots in a pan with water, bring to the boil, then drain thoroughly. Place herbs and onion in food processor and chop finely. Scrape into a jar with a lid, add remaining ingredients and shake well to combine. Serve at room temperature on grilled or pan-fried salmon, roast chicken or steak. Keeps in the fridge for up to a week.
Makes about 1.5 cups
Note: the original recipe used chervil, chives and tarragon. In the photo I used dill, parsley and coriander. Use whatever you have available.