This quick mid-week dinner will be popular with all the family. If you have young kids who don't like things too spicy just leave out the chilli. If you don't put too much filling on the lettuce you can roll them into parcels to eat with your fingers. Otherwise eat with a knife and fork. Serve the filling in wraps or pitta breads instead of lettuce leaves to make them more filling for growing kids. I like mine drizzled with Thai sweet Chilli sauce, as you can see in the photo.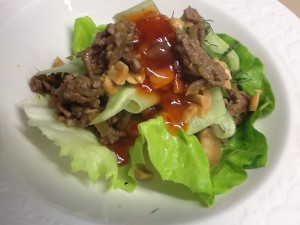 1 Tbs oil
1 large onion, finely chopped
500g lean beef mince
½ cup satay sauce (see note below)
1/3 cup beef stock
1 Tbs soy sauce
2 Tbs sherry
1 Tbs grated ginger
1 tsp sugar
1 small red chilli, seeded and finely chopped
½ cup chopped fresh coriander and extra to garnish
1 butter lettuce, washed and dried, leaves left whole
Salt and freshly ground black pepper to taste
1 Lebanese cucumber, peeled and chopped
¼ cup roasted  peanuts, chopped
Heat oil in a wok or frying pan over medium heat. Add onion and beef and cook, stirring, for 6 minutes or until onion is soft and meat has browned all over. Add satay sauce, stock, soy sauce, sherry, ginger, sugar and chilli and continue to cook for a minute or two until the liquid has almost gone. Add coriander. Season to taste – you probably won't need any salt. Serve beef in lettuce cups garnished with cucumber, peanuts and extra coriander.
Serves 4
Note: I used Ayam brand Satay sauce but if you don't have any substitute crunchy peanut butter – not quite the same, but it will do.