This Greek-style roast lamb is very similar to a recipe I posted a couple of weeks ago. This one is accompanied by a rocket salad rather than roasted vegetables, making it a more summery dish. On one large platter it makes a good addition to a casual buffet.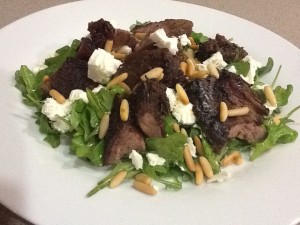 1 shoulder of lamb, bone removed
2-3 tsp salt (to taste)
6 cloves garlic
1 Tbs peppercorns
6 sprigs of rosemary
2 Tbs dry oregano
2 Tbs olive oil
100 ml white wine vinegar or lemon juice
1/4 cup water
1/4 cup red wine or sherry
To serve:
Rocket
Feta or goat's cheese
Toasted pine nuts
Lemon and olive oil dressing
Pitta or Turkish bread
Preheat oven to 170°C. Trim excess fat from lamb. In food processor or using a mortar and pestle, make a paste with the salt, garlic, peppercorns, rosemary, oregano and olive oil. Place lamb in a roasting pan and spread it on both sides with the herby paste, massaging it in. Add vinegar or lemon juice, water and wine or sherry to the bottom of the pan and cover with foil. Bake for an hour, then turn the meat over and baste with pan juices. Cover again with the foil and return to the oven for another hour or until the meat is very tender and almost falling apart. Remove foil, turn the meat over again and turn the oven up to 200°C. Cook for a further 20 minutes, or until browned on top.
Prepare a large serving dish or individual plates with a simple rocket salad, dressed with lemon juice and olive oil. When the lamb is ready break it into pieces using two forks or cut it into pieces and arrange over the salad. Sprinkle with feta or goat's cheese and toasted pine nuts. If liked, drizzle with some of the juices from the roasting pan. Serve with warm pitta or Turkish bread.
Serves 8