My Thai friend Pom makes these delicious crunchy biscuits. She gave me some as a gift recently, but they were so good I ate them all as I was driving home, so Matthew didn't get any. I asked her for the recipe and decided to double the quantities because I knew that 16 biscuits wouldn't last long.
They're like muesli in a biscuit – healthy, satisfying, good for lunch boxes or to go with a cuppa. An Australian cup measure is 250ml or a quarter of a litre.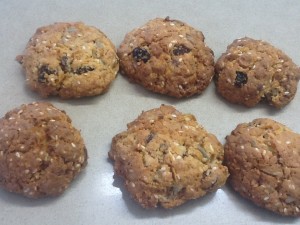 4 cups cornflakes
2/3 cup sugar or honey
250g butter at room temp
2 eggs
1 tsp vanilla essence
1 cup sultanas
2 cups SR flour
½ cup sesame seeds (white or black or a mixture)
½ cup shredded or dessicated coconut
½ cup sunflower or pumpkin kernels
1 cup chocolate chips or chopped chocolate
Preheat oven to 180ºC. Place cornflakes in food processor and process briefly to break them up a bit, but not much. If you need to chop the chocolate do it now and add it to the cornflakes. Place sugar or honey and butter in food processor and mix until smooth and creamy. Add eggs and mix well, then flour and vanilla. When smooth, scrape into the bowl with the cornflakes, add remaining ingredients and mix well. Line two or three baking trays with baking paper. Form mixture into 3cm balls and arrange on trays with spaces in between. Bake for 12-15 minutes or until golden – don't overcook or they will be dry. Cool then store in a tin with a lid.
Makes about 32
Note: the recipe is easy to halve and you can vary the ingredients to suit you taste. Add more coconut and less sultanas, use chopped nuts instead of the kernels, or leave out the chocolate and substitute something else