If I had to become a vegetarian I would eat a lot of eggplant as it's definitely the "meatiest" of all the vegetables – very filling and satisfying. This recipe comes from Yotam Ottolenghi and is delicious served warm or at room temperature.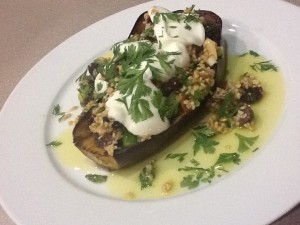 2 cloves garlic, crushed
2 tsp ground cumin
2 tsp ground coriander
1 tsp chilli flakes or powder
½ tsp salt
½ cup olive oil
2 medium eggplants
150g fine cracked wheat (bulgar)
50g sultanas
2 Tbs chopped fresh coriander
2 Tbs chopped fresh mint
2 Tbs pitted green or black olives, halved
2 Tbs flaked almonds or pine nuts
2 Tbs finely chopped preserved lemon skin (from specialty shops)
3 spring onions, chopped
1½ Tbs lemon juice
To serve:
Greek yoghurt
Olive oil
Chopped coriander
Preheat oven to 200ºC. Mix garlic, cumin, coriander, chilli, paprika, salt and about two thirds of the oil. Cut eggplants in half lengthwise. Score flesh with deep diagonal criss-cross scores being careful not to cut through the skin. Spread spice mix evenly over the eggplants then bake 40 mins or until completely soft. Meanwhile cover cracked wheat with boiling water and leave for about 20 mins. Soak sultanas separately in some warm water for about 10 mins.
Drain sultanas and cracked wheat and place in a bowl with the remaining oil, herbs, olives, nuts, spring onion, lemon juice and preserved lemon. Season to taste..
Serve eggplants warm or at room temperature. Arrange on serving dish and spoon over the cracked wheat mixture, allowing some to fall over the sides. Garnish with a dollop of yoghurt, a drizzle of oil and some coriander.
Serves 4