This recipe comes from a book called Sweet Paul Eat and Make by Paul Lowe who describes it as "the most blogged, tweeted and pinned recipe I have ever created."
I made it this weekend and have to agree – it's a keeper.
Following my grandmother's rule of adding a little sugar to anything savoury and a little salt to anything sweet, to bring out the flavours, I added a touch of sugar to the original recipe. I also used some fresh red chilli to garnish as I have never seen red pepper flakes here.
Serve as a dip or as a spread in sandwiches or on bruschettas.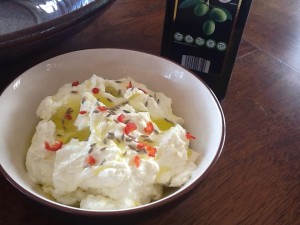 250g crumbled feta cheese (about 1 cup)
1 Tbs grated lemon rind
1-2 Tbs lemon juice (I used 2)
1 garlic clove, crushed
6 Tbs Extra Virgin olive oil
salt to taste
½ tsp sugar
To garnish:
Extra Virgin olive oil
Some finely chopped red chilli
A few cumin or fennel seeds
To serve:
Vegetable sticks, crackers or toasted baguette
Place feta in food processor with remaining ingredients and blitz until smooth. Scrape into serving dish and garnish with the oil, the chilli (or something else that's red such as paprika powder or dried chilli flakes) and the cumin or fennel seeds.
Serve with vegetable sticks, crackers or toasted baguette.
Makes about 1 ¼ cups