I never travel without a small notebook in my bag, so I can make notes when I eat anything tasty or unusual. Dissection on the plate is usually enough to work out the main ingredients. This is my take on a delicious salad we ate at a café at Copenhagen airport last month. Light, healthy and summery, this recipe ticks all the boxes.
Seafood sticks or seafood extender as they are also known is something I rarely buy. I know they're totally artificial – by which I mean they're made from an inexpensive white fish and don't contain any seafood –  but they work quite well in this recipe. If preferred use double the amount of chopped prawns. You can also substitute lobster (crayfish) or crab meat.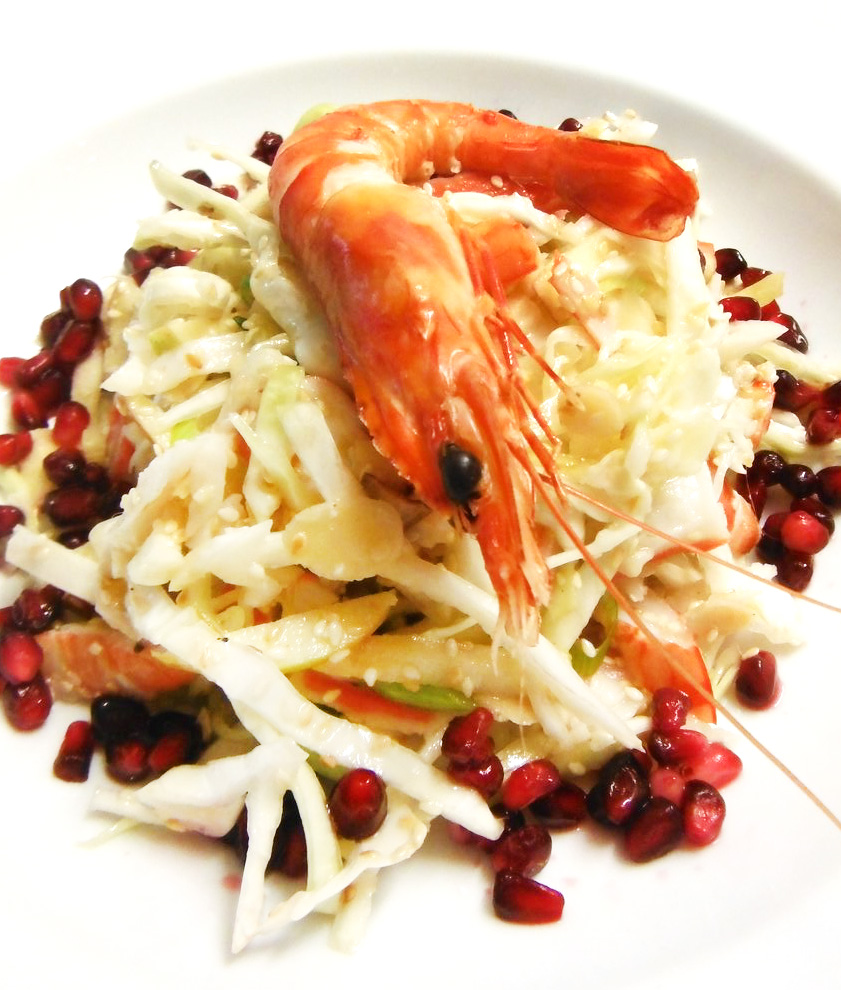 About 6 cups finely shredded white cabbage
3 spring onions, sliced thinly on the diagonal
1 large apple, cored, thinly sliced, then cut into fine julienne
1/3 cup sesame seeds
1/3 cup flaked or slivered blanched almonds
150g seafood sticks (seafood extender)
350g large cooked prawns
¼ cup olive oil
1 Tbs cider vinegar or lemon juice
1 tsp sugar
1 tsp Dijon mustard
Salt and freshly ground black pepper to taste
½ cup pomegranate seeds (see note below)
Extra virgin olive oil
Place cabbage, spring onions and apple in a salad bowl. Place sesame seeds and almonds in a dry frying pan and stir over moderate heat until very lightly toasted. Cool then add to the salad bowl.
Peel all the prawns, leaving the tail and head on four (just remove shell from body) to use as garnish and slicing the rest – not too small. Cut seafood sticks into julienne. Shake oil, vinegar or lemon juice, sugar, mustard and seasoning in a jar then add to salad and mix well. Taste and add more salt or pepper if necessary. Divide salad between four individual plates. Arrange one whole prawn on each serving and sprinkle the pomegranate seeds around. If liked drizzle with a little extra virgin olive oil.
Serves 4
Note: Fresh pomegranates are only in season for a very short time, so I used pomegranate seeds from Costco which I had frozen. I sprinkled them on when they were still frozen as they thaw very fast and I didn't want them to go mushy. You could substitute dried cranberries, for that splash of red.