A couple of years ago we spent a week at the Sarojin in Khao Lak, an hour and a half north of Phuket in Thailand, on our way back from a holiday in Europe. We had such a great time that this year we went back.
Since our first visit to the Sarojin Chef Gogh has been a subscriber to Café Cat. Sometimes he makes one of my desserts, turning it into a five star masterpiece and sends me a photo.
This time it was Gogh's turn to teach me some Thai recipes. He arranged a private cooking class where I learnt how to remove the bones from a whole snapper, while leaving it intact, so you can't tell.  Here you can see me working under close supervision from Gogh, looking very professional with a hat they lent me.
I'm not going to include the fish recipe here because removing all the bones without cutting the skin is too hard to explain in writing – you need to watch someone do it, then do it yourself straight away. I made lots of notes and hope I can do it on my own, when the time comes! You need a whole ungutted fish and unless you catch your own they're hard to find in Australia.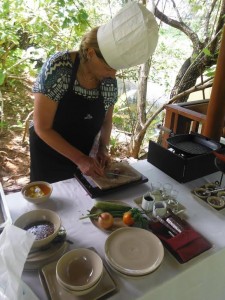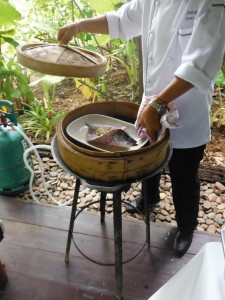 Mango with Sticky Rice and Coconut Milk is my favourite Thai dessert. It's often too sweet for my taste but Gogh's version combines the natural sweetness of the mango with slightly sweet sticky rice and a salty coconut sauce. It's sublime, so I ordered it for breakfast most mornings while we were staying at the Sarojin. I have slightly adjusted his recipe to use a rice cooker. If preferred, steam the rice in the traditional Thai way, then mix in the coconut milk and sugar when it's cooked. The Sarojin serves the sticky rice in a cone made from a banana leaf. I used an ice cream scoop instead.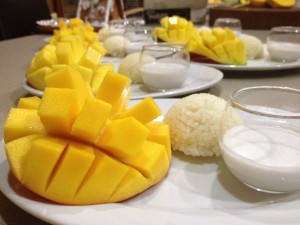 1 cup glutinous (sticky) rice
1-2 Tbs sugar, to taste
1 can coconut cream or milk (400ml), not shaken
salt to taste
2 ripe mangoes
Lightly toasted sesame seeds
Place rice in a bowl, cover with cold water and leave to soak for several hours or overnight. Drain in a sieve then place in a rice cooker with 1 cup water. Open coconut cream or milk – cream is better as it's thicker, but milk will do. Using a spoon, remove about 1 cup (250ml) from the top of the can – the thicker part – and reserve till serving time. Add what's left in the tin to the rice cooker with sugar and about ½ tsp salt. Mix well, then switch on rice cooker. When rice is cooked switch off the machine and leave till cool, then cover and keep in the fridge.
To serve, cut the four cheeks from the two mangoes. Score flesh into diagonal squares, then bend back the skin as shown in photo. Arrange mango halves on four serving plates. Mix reserved coconut cream with salt to taste then divide between 4 small individual dishes or small glasses and place next to the mango. Using a lightly-oiled ice cream scoop place a scoop of sticky rice on each plate and garnish with the sesame seeds. There will be rice left over. If preferred serve rice in individual dishes and spoon some of the coconut cream on top, then sprinkle with the sesame seeds. You can also serve it all in one dish, with the cubed or sliced mango on top.
Serves 4