My Swiss friend Esther served this simple but delicious starter for a ladies lunch she hosted. You can use smoked salmon or smoked trout and the recipe is easy to halve for two people. Served with a rocket salad and some crusty bread it's enough for a light lunch.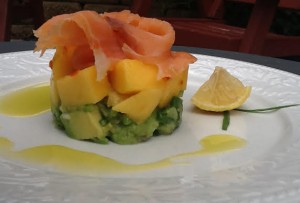 2 ripe but firm avocados in 1cm dice
1 spring onion (white part and a bit of the green), finely chopped
2 tsp fresh coriander, chopped
Juice of 1 lime or half a lemon
2 ripe but firm mangoes in 1cm dice
1 small red chilli, seeds removed, finely chopped
Salt and freshly ground black pepper to taste
4 slices smoked salmon or trout
To serve:
Lemon or lime wedges
Fresh chives
Extra Virgin olive oil
Arrange four stacking rings on serving plates. Mix avocado with spring onion, coriander and lime or lemon juice. Season to taste then divide among the stacking rings and press down firmly with a spoon. Mix mango with chilli, place on top of the avocado and press down. Top each serving with a slice of smoked salmon or trout. Remove stacking ring then garnish plates with a lemon or lime wedge, a couple of pieces of fresh chive and a drizzle of olive oil.
Serves 4