Over the years I've tried lots of recipes for potato cakes, latkes and rostis. Some used whole eggs and plain flour, while others used none of the above. None of them have ever quite hit the mark.
This recipe, based on one from Yotam Ottolenghi, uses egg whites and cornflour and from now on I won't use any other. He uses a combination of grated potatoes and parsnip, but I used all potatoes and they were delicious. Ottolenghi says to use Desiree potatoes. I used Kipflers from the garden, because that's what I had, and they worked well.
Serve one potato cake as a starter, or two as a light lunch or supper, perhaps accompanied by a cucumber salad. The potato cakes are best served immediately, but you can make them ahead and reheat them briefly in a hot oven.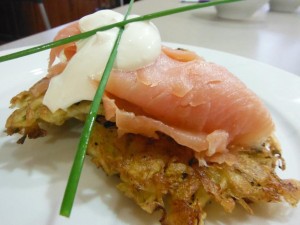 500-600g peeled potatoes, coarsely grated
2 egg whites
1 rounded Tbs cornflour
1 tsp salt and freshly ground black pepper
2 Tbs snipped chives
40g butter
4 Tbs vegetable oil
To serve:
Smoked Salmon
Sour Cream
Chives
Tip grated potatoes onto a clean tea towel, draw in the sides and squeeze to remove as much moisture as possible. Place potatoes in a bowl with the egg whites, cornflour, salt, pepper and chives and mix well.
Heat half the butter and half the oil in a medium non-stick frying pan. Make three or four potato cakes using about 3 Tbs of mixture for each and about half the mixture. Cook for 2-4 mins each side over medium heat, or until golden brown and cooked through. Drain on paper towels and keep warm in a low oven. Add remaining butter and oil to the pan and make three or four more potato cakes.
Serve potato cakes (one or two per person) topped with smoked salmon, sour cream and a couple of chives.
Makes 6-8 potato cakes