I'm what you might call an abstemious cook, thanks to Scottish genes from my paternal grandmother and waste not want not mentality from my mother, who spent the Second World War in Malta with strict rationing.
Throwing away food – unless it's gone off – is something I can't bear to do. A few tired looking vegies in the bottom of the fridge? In no time you can convert them into a delicious cream of vegetable soup. My kids tell me they've inherited this trait, so they must be strong genes.
On the shelves of a Bed and Breakfast in rural France I once found a very old hand-written recipe book. I copied out lots of recipes, including this delicious soup made entirely from prawn heads and tails. I had always hated throwing out juicy prawn heads and tails and since acquiring this recipe I don't have to.
Next time you buy some big fat prawns – cooked or raw – save the heads and tails in a bag in the freezer and keep adding to them. For every kilo of prawns you usually end up with about half a kilo of heads and tails. I know there are rules about refreezing things, but if you use very fresh prawns and get them into the freezer ASAP you won't have a problem. I've been doing it for years and I'm still here to tell the tale. If you prefer not to freeze them, you can always make the bisque straight away, but I never seem to have enough prawn heads when I have time to cook. The recipe isn't all that time-consuming, but it's not something I would do on a mid-week evening while trying to prepare dinner.
When you have enough in the bag and a quiet weekend make this scrumptious soup. It will keep in the fridge for 2-3 days, or can be frozen for several months. Freeze it without the cream, then add the cream when you thaw and reheat it. Serve it as a soup or as a sauce for scallops, fish, prawns or prawn-filled wontons.
Once when we were living in Chile we had a power cut which lasted two days. The only thing Matthew was worried about was getting the Prawn Bisque across town and into the custody of a friend whose freezer was still working.
This is one of my top ten recipes of all times – just as good as a seafood bisque seved in a top French restaurant – so do try it.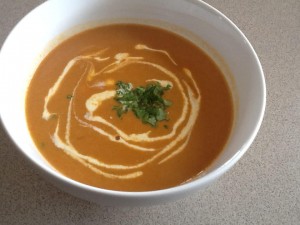 Between 1kg and 2kg prawn heads and tails
125g butter
1 clove garlic, crushed
2 onions, chopped
1 cup flour
2-3 carrots depending on size, chopped
2 sticks celery, chopped
750ml white wine
½ cup brandy
1 cup tomato paste
Water
Salt and freshly ground black pepper to taste
500ml cream
To serve:
Cream
Croutons (optional)
Chopped parsley
With a sharp knife or cleaver, cut prawn heads in two. Heat butter in a very large heavy-based saucepan, add prawn heads and tails and cook, stirring, for about 5 minutes. Add onions and garlic and continue to cook, stirring until softened. Add flour and stir for a minute or two until cooked. Add carrots, celery, wine, brandy, tomato paste, salt and pepper and enough water to cover everything.
Simmer covered for between one and one and a half hours, stirring often (especially the bottom so it doesn't stick), pushing down with a potato masher to help remove all the flavour from the prawns and topping up the water level as it evaporates.
Strain soup through a sieve in batches, pressing down hard on solids then discarding them. To serve, reheat with cream. Adjust seasoning and serve garnished with a swirl of cream, croutons (if using – I didn't in the photo) and chopped parsley.
Serves 12
Notes:
To make a hearty main course soup, serve in large bowls and add cubes of oven roasted pumpkin, whole cooked prawns, chopped parsley and croutons.
Before adding cream you can freeze this soup in one container. To serve, thaw, reheat with the cream and adjust seasoning.
You can also freeze it in several smaller plastic containers to use as a delicious sauce with home-made seafood ravioli, pan fried white fish or scallops.