The Jerusalem artichokes from our veggie garden are ready to use, so I went through some cookbooks looking for new ways to use them. This easy and delicious recipe comes from Jerusalem by one of my favourite chefs, Yotam Ottolenghi and his partner Sami Tamimi.
I've made a few slight adjustments. The original recipe uses fresh tarragon which I didn't have, so I used marjoram which grows profusely in our garden and doesn't get hit so early by the frost. It worked well. If you don't have any saffron add a couple of teaspoons of turmeric. Ottolenghi says to peel the artichokes but it's such a fiddly job we just scrub them and trim off any black bits.
If you don't have Jerusalem artichokes substitute parsnips, pumpkin, sweet potatoes or ordinary potatoes.
500g Jerusalem artichokes
8 chicken thighs, skin-on, trimmed
Juice of 1 lemon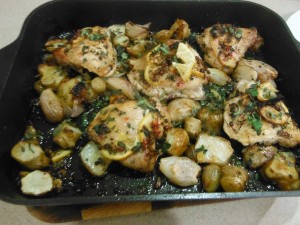 12 garlic cloves, peeled and sliced
12 shallots, peeled & halved lengthwise
1 lemon, halved lengthwise & sliced thinly
1 tsp saffron threads
¼ cup olive oil
¾ cup water
1½ Tbs pink peppercorns (optional – see note)
1 Tbs fresh thyme leaves or 2 tsp dried
2 Tbs fresh marjoram or tarragon, chopped
1 to 2 tsp salt, to taste
Freshly ground black pepper
To serve:
Extra chopped herbs
Extra lemon juice
Scrub and trim the artichokes, then cut into even chunks about 2cm thick. Place in a saucepan and cover with water. Bring to the boil and simmer for 10 mins, drain. Place all ingredients in a large mixing bowl and mix well with hands. Cover and leave to marinate for 1-2 hours or overnight.
Preheat oven to 220°C. Tip chicken and marinade into a rectangular roasting tin (mine is non-stick) and spread out evenly. Cover with foil and roast for half an hour. Remove foil, baste chicken with the juices, then roast for a further 15 mins or until cooked and nicely browned.
Serve garnished with some extra chopped fresh herbs and a squeeze of lemon juice.
Serves 4
Note: pink peppercorns are not really peppercorns at all (look them up on Google if you're interested). You can buy them in specialty shops such as The Essential Ingredient. They go well with smoked salmon, Gravlax, chicken and fish dishes.