When we had a house full of kids I made recipes using minced beef all the time. Lasagne, spaghetti bolognese, shepherd's pie – they are all great ways to feed a family with just half a kilo of mince. Now there's just the two of us I only buy mince occasionally – otherwise we'd be forever eating leftovers!
This recipe was posted recently by Jill Dupleix, a well-known food writer in Australia. I love anything with peas so I decided to make it, adjusting the quantities to go with half a kilo of mince rather than the 750g she used.
It's very quick to make and sure to be a hit with all the family.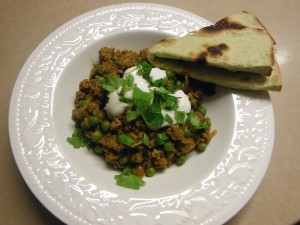 1 Tbs oil
1 large onion, chopped
1 large clove garlic, crushed
500g minced lamb or beef
1 Tbs tomato paste
1 Tbs grated ginger
½ tsp each turmeric, coriander
¼ to ½ tsp chilli powder or flakes (optional)
1 tsp garam masala
Two cups water or stock
Salt and freshly ground black pepper to taste
1 tsp sugar
2-3 cups frozen peas
To serve:
Chopped fresh coriander
Steamed Rice
Indian bread such as Roti
Plain yoghurt
Heat oil in a large frying pan and cook onion and garlic until soft but not brown. Add meat and cook for 5 mins, breaking it up as you go, until browned. Add remaining ingredients except peas and simmer for 20 mins. Add peas and cook for a further 5-10 mins, or until peas are cooked and Kheema is thick.
Sprinkle with chopped coriander and serve with rice, bread and plain yoghurt on the side. Warm the Indian bread by heating for a minute or so on each side in a dry frying pan over moderate heat.
Serves 4
Variations: use a drained can of beans or chick peas instead of the green peas.