This makes a quick lunch or light supper for four.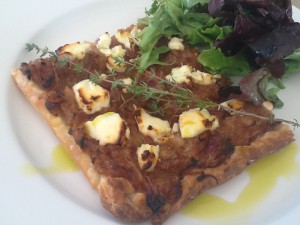 250g puff pastry, either ready-rolled or in a block
1 kg red onions thinly sliced
2 Tbs olive oil
25g butter
1 Tbs vinegar
1 Tbs brown sugar
Salt and freshly ground black pepper
100-150g soft goat's cheese
Fresh thyme
Pre-heat oven to 200°C. If not ready rolled, roll out pastry to a 25-30cm square about 5mm thick.
Place pastry on a baking sheet lined with baking paper. Heat oil and butter in a large non-stick frying pan. Add onions and cook over low to moderate heat, stirring from time to time, for 15-20 mins or until very soft. Add vinegar and sugar and cook, stirring, for a further 5 mins. Season.
Spread onions over the pastry. Break the cheese into pieces and scatter over the onions. Bake for 30 mins or until puffed and golden. Garnish with thyme. Cut into four and serve with a mixed salad.
Serves 4
Substitutions: use brown onions instead of red; use feta cheese instead of goat's cheese. Use a bought pizza base or Indian roti instead of pastry.