I'm always looking for new recipes which use pearl barley – a much under-used grain in my opinion. Basically you can use it in any recipe which calls for rice – it just takes longer to cook. This recipe is slightly adapted from one which appeared recently in Delicious magazine.
4 Tbs olive oil
500g white or brown mushrooms, wiped and quartered
1 onion, diced
2 cloves garlic, crushed
1¼ cups pearl barley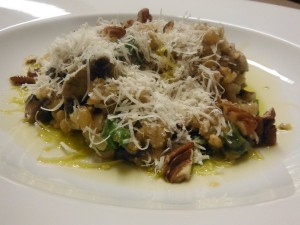 2 tsp Dijon mustard
1 Tbs fresh thyme leaves (or 2 tsp dried)
1 cup white wine
4 cups (1 Litre) chicken or veg stock (or water and cubes)
Extra water if necessary
2-3 cups baby rocket leaves washed and dried
½ cup grated parmesan cheese
Salt and freshly ground black pepper, to taste
To garnish:
½ cup grated parmesan cheese, extra
Extra Virgin olive oil
2 Tbs chopped walnuts or pecan nuts
In a large heavy-bottomed pan heat 2 Tbs of oil and fry mushrooms for 4 mins or until browned. Remove from pan. Heat remaining 2 Tbs oil and cook onion and garlic until soft. Add barley, mustard, thyme and cook, stirring for 2 minutes. Add wine and stock, bring to the boil, then turn down heat and simmer for 40 mins or until barley is tender. Add more water, a little at a time, if necessary – I didn't need any extra.
When barley is cooked the liquid should have all been absorbed. Season to taste then mix in the cooked mushrooms, rocket and parmesan cheese. Serve garnished with the extra parmesan, a drizzle of olive oil and the chopped nuts.
Serves 4