When I told No. 2 son I was making a lasagne without pasta he was skeptical. You'll be trying to get rid of the leftovers all week, he said. But it was a great success. Different to a traditional lasagne, but still delicious.
It comes from a new book called Simplicious which is all about using things up. It uses rice paper sheets instead of lasagne sheets and the sauce is thickened with cauliflower instead of flour, making it gluten-free and low in carbohydrates. But if you don't have any rice paper sheets use any kind of pasta you have in your pantry – cooked in boiling water, unless it's instant lasagne.
I'm not gluten intolerant, but you don't need to be gluten intolerant to enjoy this recipe. It simply caught my eye because I had some rice paper sheets and nori (seaweed) sheets which had been sitting in the pantry forever and needed using up! I added cumin and sugar to the sauce and used mushrooms instead of grated pumpkin. Below I've offered a few other suggestions for varying the recipe to suit what you have on hand. It's that kind of recipe – very adaptable!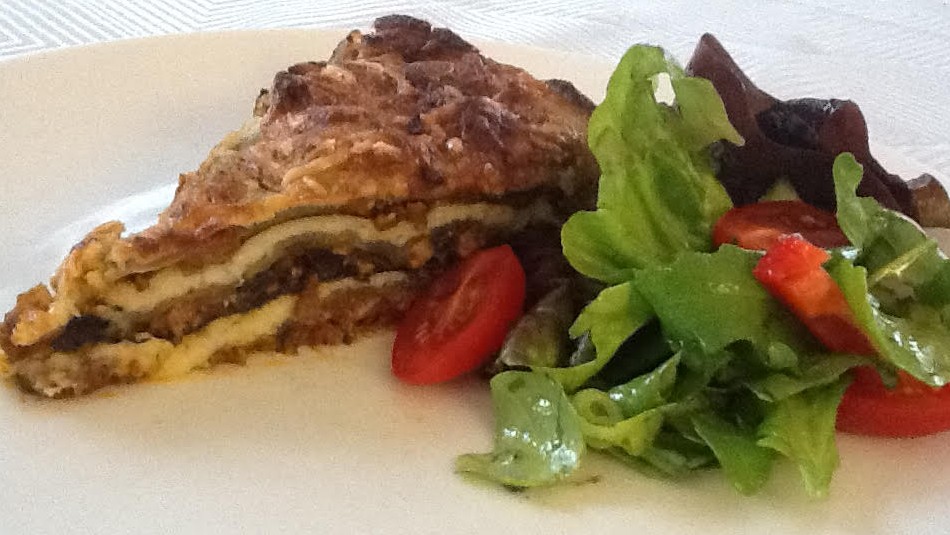 Meat Sauce:
1 Tbs oil
1 onion, finely chopped
500g minced beef or lamb
2 cups chopped mushrooms
2 cloves garlic, crushed
½ tsp cayenne pepper or chilli powder
½ tsp ground turmeric
1 tsp ground cumin
1 tsp oregano
1 can diced tomatoes
Salt and freshly ground black pepper
2 tsp sugar (optional)
1 cup water
Cheese and Cauliflower Sauce:
1 cauliflower cut into florets
40g butter
½ cup milk
½ cup grated Parmesan cheese
To assemble:
9 rice paper sheets
2 nori (seaweed) sheets, torn into pieces
2 cups baby spinach leaves
½ cup grated Parmesan cheese
Salt and freshly ground black pepper
Heat oil in a large frying pan and cook onion, mince, mushrooms and garlic for 5-7 mins, stirring often and breaking up the mince. Add remaining ingredients and simmer for 15-20 mins until thickened.
Meanwhile pre-heat oven to 180°C. Cook cauliflower in boiling salted water until tender then place in food processor with butter, milk and Parmesan. Whiz till smooth.
Grease a 22cm springform cake pan and line the bottom with baking paper. Spread a third of the meat sauce over the bottom, then 3 rice paper sheets, then a third of the cauliflower sauce. Next goes half the spinach leaves and half the nori. Repeat this again then finish with remaining meat sauce, rice papers and cauliflower sauce. Top with grated Parmesan. Bake 40 mins or until browned. Stand 10 mins then remove sides of pan. Serve with a mixed salad.
Serves 6
Variations and Substitutions:
Use a baking dish instead of a springform pan,
Use grated cheddar instead of Parmesan.
The original recipe uses 2 cups of grated pumpkin – I used mushrooms instead – you could also substitute grated carrot or zucchini (courgette).
To make a vegetarian version use 500g eggplants (aubergines) cut into small cubes instead of the mince.
If you don't have any nori (seaweed) sheets just leave them out.