This salad comes from a Greek cook book called Taking you Home. I've tweaked the quantities a bit – the original recipe has 2 cups of risoni – but apart from that it's pretty much the same.
Serve with roast lamb or chicken, grilled lamb chops, or as part of a buffet.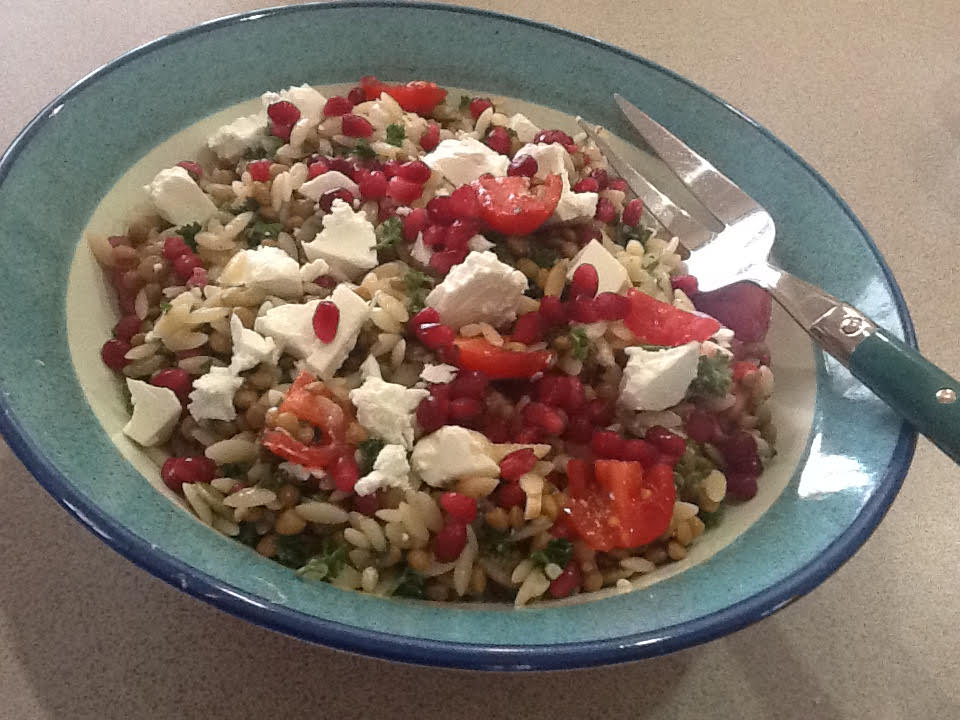 1 cup Risoni (rice-shaped pasta)
1/3 cup pumpkin seeds (pepitas)
¼ cup slivered almonds
About 1 cup pomegranate kernels (see note below)
1 cup chopped parsley
10 cherry tomatoes, quartered
1 400g can lentils, drained and rinsed
2 Tbs olive oil
2 Tbs lemon juice
100g feta cheese, crumbled
Salt and freshly ground black pepper, to taste
Cook risoni in boiling salted water until al dente. Place pumpkin seeds and almonds in a dry frying pan and cook for a few minutes, stirring, until lightly toasted. Drain risoni and place in a bowl with remaining ingredients, saving some of the feta to put on top.
Serves 6
Note: remove seeds from 1 large pomegranate or buy fresh kernels, which I found in Costco in a three pack. I used one and froze the other two as they freeze well.