Roast Pork with apple sauce is a marriage made in heaven, but pork also goes well with other fruit. This mango salsa can be made in a jiffy and goes well with pork or chicken. If preferred just serve it with some grilled or pan-fried pork chops. Instead of mango try using fresh peaches or nectarines.
I'm a bit old-fashioned when it comes to pork, because (unlike beef) I like it cooked until it's no longer pink, as you can see in the photo.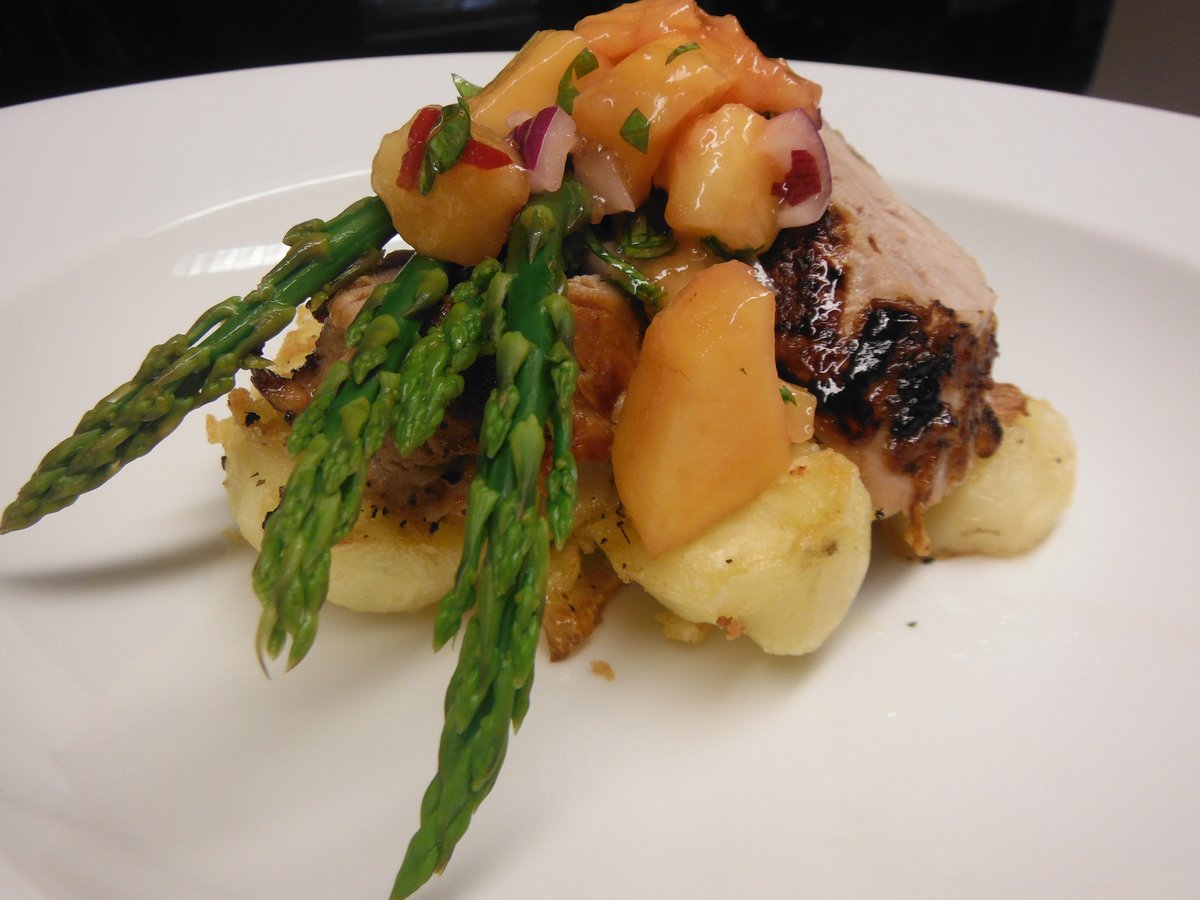 4 medium potatoes, peeled
1 large or 2 smaller pork fillets (about 600g total)
Salt and freshly ground black pepper
Olive oil to spray or drizzle
1 Tbs butter
Salsa:
1 mango, peeled and cut into small cubes
1 small red chilli, seeded and finely chopped
½ red onion, finely chopped
1 Tbs fresh coriander, chopped
1 Tbs white wine or cider vinegar
1 Tbs olive oil
To serve:
A green vegetable such as steamed asparagus
Cook potatoes in boiling salted water until almost cooked. Drain then place on a baking tray lined with foil. Spray or drizzle with olive oil on both sides, then squash them a bit with a potato masher. Season with salt and pepper.
Preheat oven to 200°C. Heat butter in a frying pan with a metal handle that can go in the oven. Season pork all over then brown on all sides in the butter. Place potatoes in the top of the oven and 10 minutes later place the pork on the shelf below. Cook pork for 10-15 mins, by which time the potatoes should be nice and crispy. After ten minutes pork will still be a bit pink in the middle (except at the very thin end) whereas by 15 mins it should be more medium.
Meanwhile cook the asparagus and make the Salsa. For the Salsa mix all ingredients in a small bowl.
Slice pork and serve on a bed of crispy potatoes garnished with the asparagus and the salsa.
Serves 4