A good beef casserole accompanied by mashed potatoes to mop up the gravy is the sort of comfort food we all crave at times, especially as the weather gets cooler. These old-fashioned dishes take us back to our childhood and Mum's cooking.
This casserole doesn't contain any tomatoes or herbs, allowing the flavour from the mushrooms and the sherry to shine through. It can be made in the oven or in a slow cooker.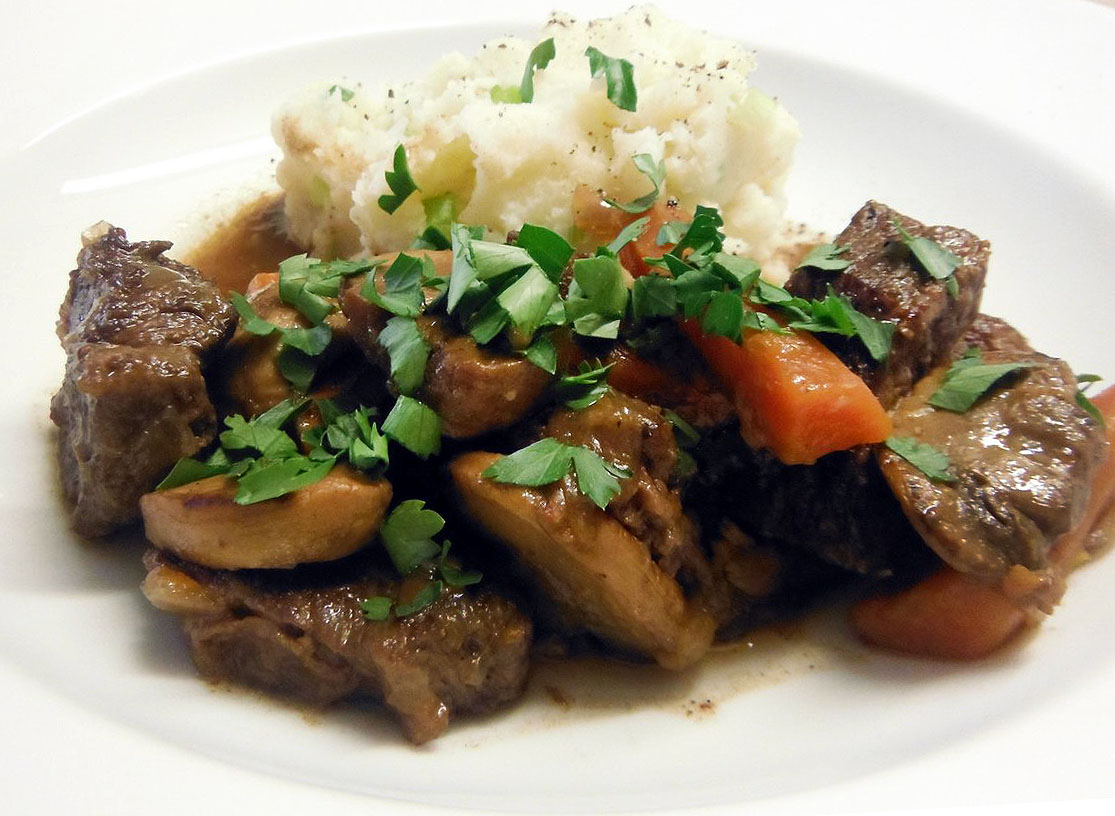 2 Tbs oil
1 kg lean stewing beef such as chuck steak
Salt and freshly ground black pepper
150g speck or bacon cut into chunky pieces (lardons)
2 onions, peeled and chopped
3 carrots, peeled and cut into sticks
250g mushrooms, wiped and thickly sliced
3 cloves garlic, crushed
2 cups water (only 1 cup for Slow Cooker)
1 beef stock cube
2 Tbs Worcestershire sauce
½ cup dry sherry or red wine
Spring Onion Mash:
1 kg potatoes, peeled and cut into even-sized pieces
25g butter
¼ cup milk
Salt and freshly ground black pepper
3-4 spring onions, thinly sliced (optional)
To serve:
Chopped fresh parsley
Trim beef and cut into 3cm cubes. Season. Heat 1 Tbs oil in a large frying pan and brown half the meat all over until nicely caramelised. Put beef into a heavy Le Creuset-type casserole with a lid or into a Slow Cooker. Repeat with remaining oil and beef. Add the lardons to the pan and cook, stirring until light brown. Add onions and cook for 3-4 mins stirring regularly, until starting to soften. Add carrots, mushrooms, garlic and a touch more oil if necessary and continue to cook for 3-4 mins. Tip vegetables into the casserole with the beef.
Add water, stock cube, Worcestershire sauce and sherry or wine. If using a casserole dish cover and cook at 150°C for two hours or until meat is tender and sauce has thickened up. If using a Slow Cooker use only one cup of water, cover and cook for 3-4 hours on High or until meat is tender and sauce has thickened.
Casserole will keep in the fridge for 3-4 days or you can eat half and freeze the rest. Reheat, check seasoning and serve garnished with chopped parsley and accompanied by Spring Onion Mash to mop up all the gravy.
Spring Onion Mash: cook potatoes in boiling salted water for 20 mins or until tender. Drain thoroughly then mash with a potato masher, adding the butter and milk. When smooth and creamy season with salt and pepper and fold in the spring onions if liked.
Serves 4-6