My mother could make a chicken last three days, even though there were five of us in the family.
Roast on Sunday, curried or cold on Monday and soup on Tuesday. Nothing was wasted and the idea wasn't to fill up on chicken, but on the accompaniments. There were always lots of roast vegetables with the Sunday roast, rice with the curry and herb dumplings and vegetables in the soup. Fortunately those days of austerity are gone.
I'm always looking for new ways to roast a whole chicken and this recipe, where you immerse it in brine overnight, caught my eye. It really does make a difference, resulting in very crispy skin and succulent meat. Serve it with roast potatoes and a green vegetable or salad. The sauce is delicious served with pretty much anything. Yes I know there's only one lemon in the photo, but we were at the farm (45 minutes from the nearest shop) and I only had two and used one in the sauce!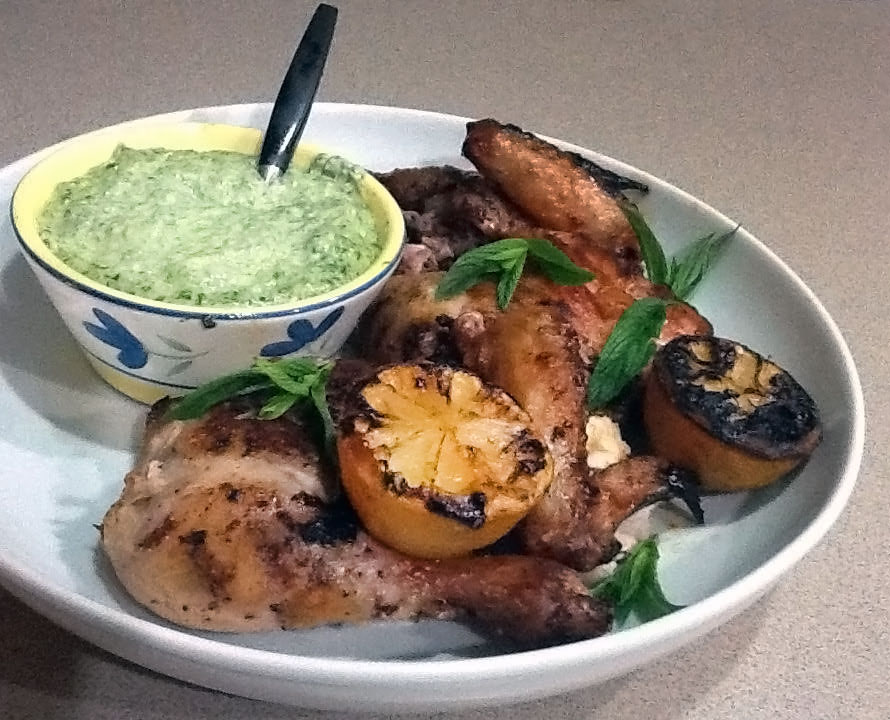 1 whole chicken, weighing about 1.8kg
3 lemons, cut in halves
Olive oil
Fresh herbs to garnish
Brine
3 Litres water
¾ cup salt
¾ cup sugar
1 tsp each coriander and cumin seeds
½ an onion peeled and chopped
3 cloves garlic, crushed
Freshly ground black pepper
1 Tbs chopped fresh thyme or 2 tsp dried
Herb Sauce
A handful each parsley, coriander and mint leaves
A handful of baby spinach leaves
2 Tbs tahini
100ml extra virgin olive oil
Finely grated rind and juice 1 lemon
1 clove garlic, crushed
2 Tbs water
Salt and freshly ground black pepper to taste
Place chicken on a chopping board, breast side down. Using poultry shears cut along one side of the backbone, then along the other side, remove and discard or keep for making stock. Turn chicken over and press hard on the breast bone to flatten it out.
Place all ingredients for brine in a large saucepan and bring to the boil. Cool then place chicken in the brine and refrigerate overnight, covered. Next day remove chicken from brine, pat dry with paper towels, then leave in the fridge on a plate, uncovered, for at least an hour and up to several hours, so the skin dries out. Discard the brine.
For the Herb sauce, place herbs and spinach leaves in a bowl and cover with boiling water. Drain, rinse under a cold tap, then squeeze out all the water, put into food processor with remaining ingredients and whiz till you have a thick green sauce.
Brush chicken and lemon halves all over with oil then place in a roasting pan and roast in a hot oven at 200°C or on a barbecue for about an hour, or until chicken is browned and crispy. Turn chicken and lemon halves over about halfway through cooking time.
When chicken is ready carve and arrange on serving platter with the lemon halves and some fresh herbs.
Serves 4