Also known as sunchokes or topinambours, Jerusalem artichokes belong to the sunflower family. In early winter, after the flowers have died down, the tubers can be harvested and eaten as a root vegetable.
We grow them in our veggie garden at the farm (you need a bit of space or they can take over) and while I like them, I have to agree that our kids' nickname, fartichokes, is very appropriate. I prefer to use them in recipes where they're combined with other vegetables, to reduce the windy effect.
Serve this dish with roast meats or as a side dish at a barbecue. If you don't have any Jerusalem artichokes use more parsnips or substitute potatoes. The onion puree should have been a pale colour, but when the onions were frying I wasn't paying close enough attention. Still tasted good!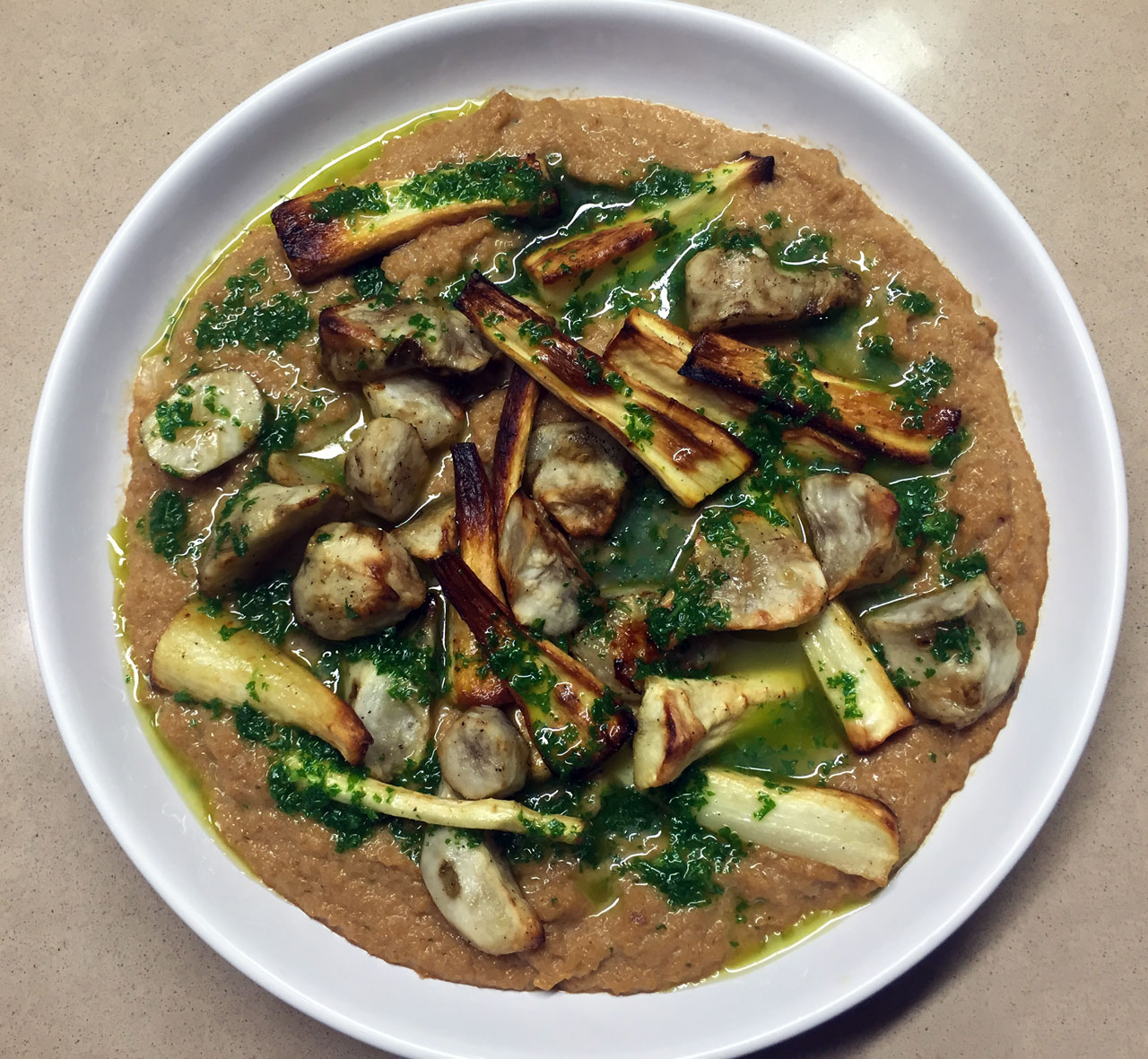 500g Jerusalem artichokes, cut into 2-3cm chunks
500g parsnips, cut into even-sized chunky sticks
2 Tbs olive oil
Salt and pepper to taste
Onion Purée:
2 large onions, finely chopped
25-50g butter (you decide!)
3 Tbs cream or sour cream
Salt and freshly ground black pepper, to taste
Parsley oil:
A handful of fresh parsley
A few leaves of spinach or rocket
Olive oil
Salt to taste
Mix vegetables with oil in a bowl and add seasoning. Line a baking tray with baking paper then tip vegetables onto tray and spread into one layer. Bake at 200°C for 30 mins or until tender and browned at the edges.
Meanwhile cook onions in the butter for 10-15 mins or until soft, stirring often. Place in food processor with cream or sour cream and process till smooth, then season to taste.
For the parsley oil, pour boiling water over the parsley and spinach or rocket, then refresh under the cold tap and squeeze out excess water. Place in food processor, then add olive oil with motor running until you have a bright green sauce. Add salt to taste.
Spread onion purée in serving dish. Arrange roast vegetables on top, then drizzle with the parsley oil.
Serves 6