With a packet of mince in the freezer and some canned tomatoes and pasta in the pantry you can make any number of delicious meals without going shopping – spaghetti bolognese, lasagne, meatloaf or meatballs to name a few.
Saw this recipe in an old Delicious magazine and got all nostalgic for a time when I used to make meatballs a lot, when we had kids at home. And it was indeed delicious.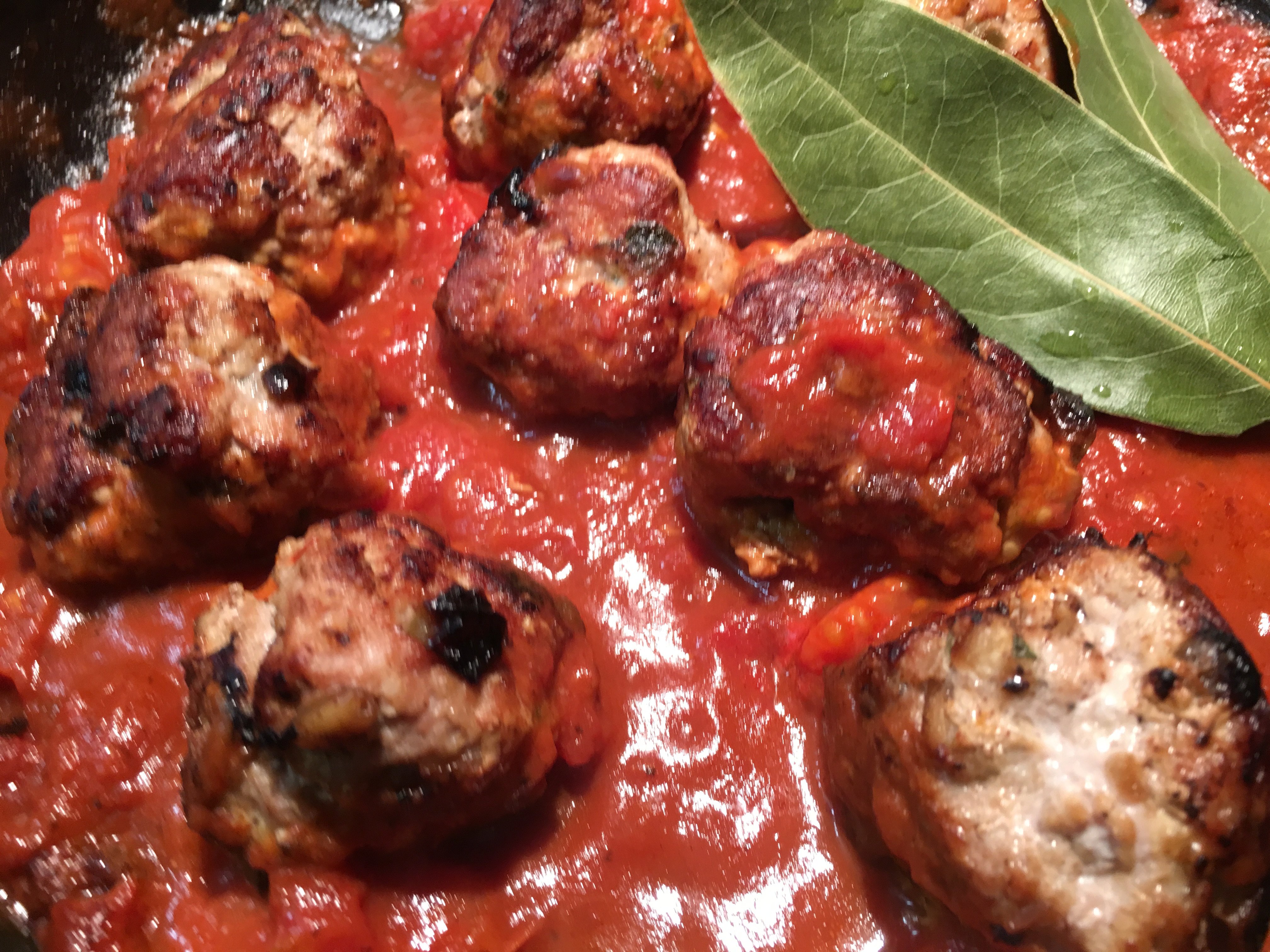 Meatballs:
1 kg pork mince
¼ cup sultanas, roughly chopped
¼ cup toasted pine nuts, roughly chopped
2 Tbs grated parmesan, plus extra to serve
1 Tbs roughly chopped fresh marjoram leaves
Pinch nutmeg
Finely grated rind 1 lemon
½ cup breadcrumbs (using day old bread)
1 egg white
Salt and freshly ground black pepper to taste
2-3 tsp sugar
Sauce:
¼ cup olive oil
1¼ cups chicken stock
2 cans (400g) chopped tomatoes
250g cherry tomatoes
2 bay leaves
Juice of 1 lemon
Steamed green vegetable, such as beans, peas, broccoli
Cooked pasta
Mix all ingredients for meatballs and form into about 16 meatballs with wet hands. Place on a plate and chill for about 30 mins.
Heat half the oil in a deep frying pan and cook half the meatballs on all sides or until they are nicely browned, then remove. Repeat with remaining meatballs. Tip off excess oil. Place stock in the pan with the canned and cherry tomatoes and simmer for a few mins. Return meatballs to pan with bay leaves, cover and cook for 20-25 mins or until meatballs are cooked through. From time to time spoon sauce over the meatballs and add a bit of water if it's getting too thick. Stir in the lemon juice, top with extra parmesan and serve with a green vegetable and some pasta.
Serves 6