Christmas cakes and puddings are best made in November or even earlier, so they have time to mature. I make them on the same day, so I can weigh out the fruit and nuts into two big bowls, one for each recipe, which saves time. The puddings will keep in the fridge for a year or more.
Don't worry if you don't get around to it until a few days before Christmas. Anything home-made always tastes so much better than the bought variety. And Christmas cakes and puddings make wonderful gifts, especially for elderly people living on their own.
I've been making these old family recipes since I was at school.  The original versions came from my paternal grandmother, but they've evolved over the years with slight modifications. I now use melted butter instead of the traditional suet in the pudding mixture, but you can use suet if you prefer.  Covering the cake with marzipan and then white royal icing to look like snow was all part of the tradition.  Most of my family don't like marzipan and we're all trying to cut down on sugar, so nowadays I cover the top with nuts instead.
I've also started using the "all in one" method for the cake which uses melted butter. When we made Christmas cakes at school creaming the butter and sugar by hand, with a wooden spoon, seemed to take forever. The teacher whose name was Mrs Wood came round to inspect and decide whether or not it was time to start adding the eggs. No electric mixers back then, so by the time you got the tick of approval you felt as if your arm was about to drop off. The "all in one" method is so much quicker and works well.
Feel free to substitute – dried apricots instead of the cherries or mixed peel, walnuts or pecans instead of the almonds, whisky instead of the rum or brandy. Making little changes will allow you to make the recipe your own, to hand down to your grandchildren.
Christmas Cake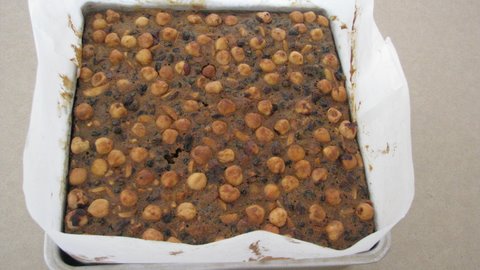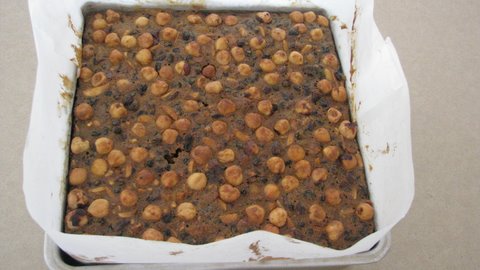 250g butter, melted
250g brown sugar
6 large eggs, beaten with a fork
300g plain flour
2 Tbs black treacle
450g currants
300g sultanas
175g raisins
125g glacé cherries
125g slivered almonds
125g mixed peel (optional)
1 orange (zest and juice)
4 Tbs Brandy or dark Rum
2 tsp mixed spice
1 tsp ground nutmeg
75g ground almonds
To decorate the top:
200g whole almonds (blanched) or hazelnuts, shelled, roasted and
skins rubbed off, or macadamias
Soak fruit and nuts in brandy or rum overnight, or if you're in a hurry, for at least an hour. Line a 25cm round or square cake tin with a double layer of baking paper. Place the tin on a baking sheet on which you have placed 4 thicknesses of newspaper. Wrap a band of newspaper of the same thickness around the outside of the tin, using a stapler to join the ends. Preheat oven to 150°C. If you have the option to use your oven in conventional mode, without the fan, the results will be better. If you have to use the fan the cake will cook more quickly than without.
Place all the ingredients in a large mixing bowl and mix thoroughly, then spoon into tin and smooth the top. Cover the surface evenly with whole blanched almonds, hazelnuts or macadamias, pressing them in a bit with your hand. Bake for between 1¾ and 2¼ hours on the middle shelf of the oven. Test with a toothpick after an hour and a half.  If the top gets too brown before the middle is ready, place some foil loosely over the top of the cake to stop the nuts from burning.  When it's ready the top of the cake will have an even colour, feel firm to the touch and a toothpick inserted in the middle will come out clean.
Cool thoroughly then store in an airtight tin in a cool, dark place. If liked, halfway through storage time pierce all over the top with a skewer and drizzle with a little extra brandy or rum which will soak in.
Keeps for several months in a sealed tin. If you live in a warm humid climate keep it in the fridge.
To serve, tie a wide red ribbon around the outside of the cake and decorate the top with some holly leaves and berries – real or plastic!
Christmas Pudding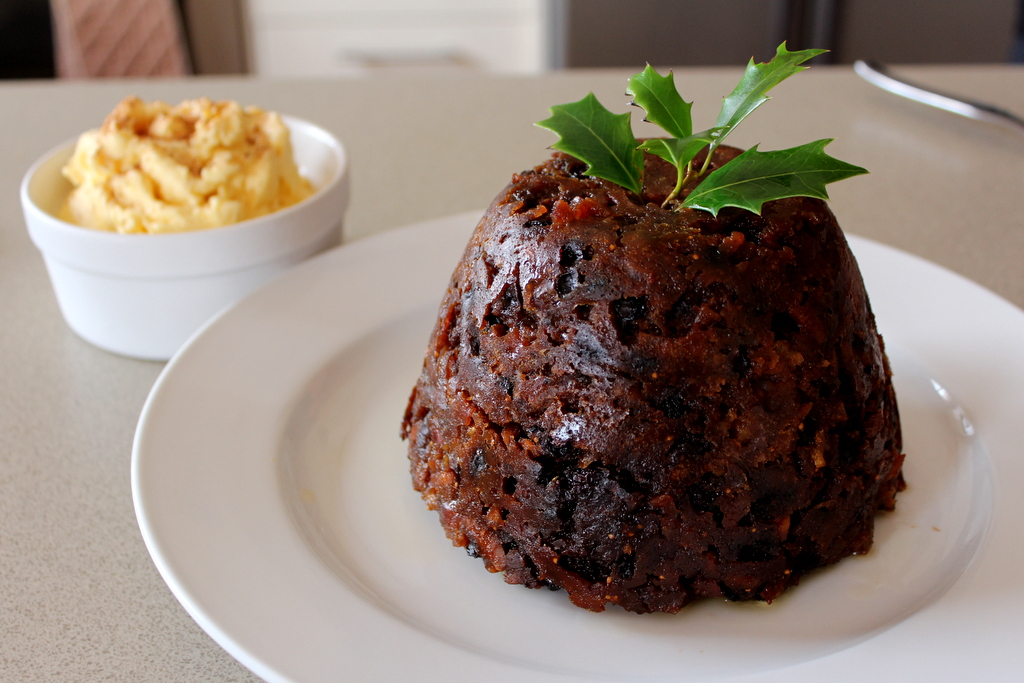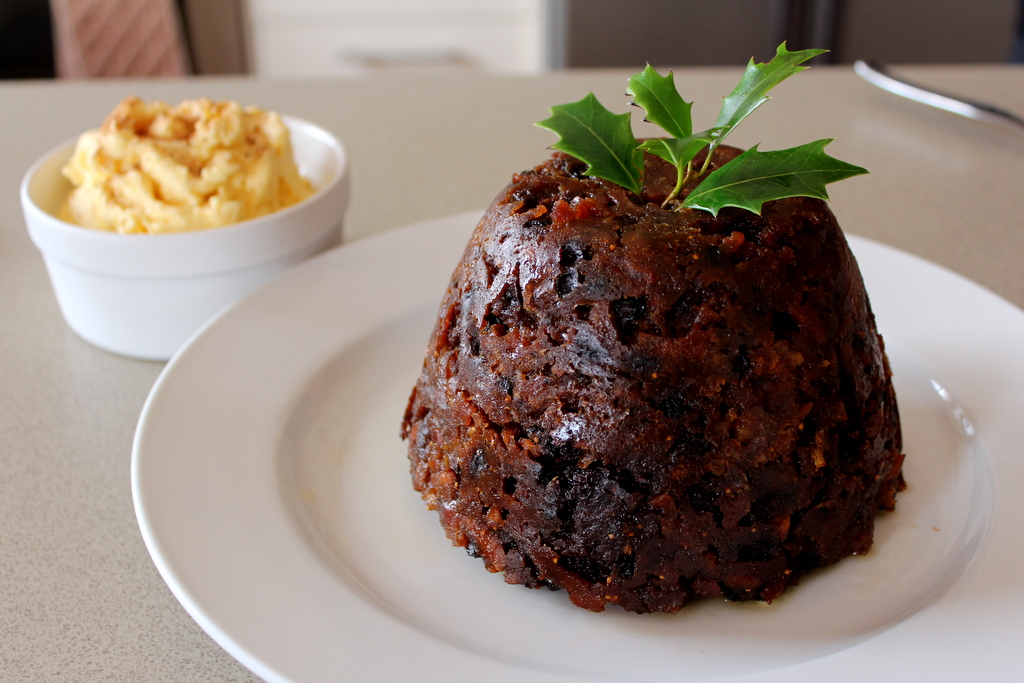 125g currants
200g dried figs (remove stalks) or pitted dates
200g sultanas
200g raisins (or use 400g sultanas and omit raisins)
60g mixed peel (or substitute dried apricots)
60g almonds, blanched or unblanched (or substitute other nuts)
60g glacé cherries (or substitute dried apricots)
2 apples, unpeeled and cored
125g plain flour
1 tsp salt
1 tsp each ground cinnamon, nutmeg & cloves
200g brown sugar
400g brown breadcrumbs
4 eggs
1 orange
4 Tbs Brandy or dark Rum
2 Tbs black treacle
250g melted butter or grated suet
¾ cup beer
1 tsp bicarb of soda
Weigh out all the fruit and nuts into a large bowl. Make the breadcrumbs in the food processor. Use the food processor to grate or finely chop the apples. Cut orange into four, remove any seeds then process till finely chopped and pulpy.  If leaving out the mixed peel and cherries, substitute with dried apricots. Chop figs or dates, almonds and apricots (if using) in the food processor.
Add remaining ingredients and mix well. Place mixture in lightly greased pudding bowls, filling them to about 2cm above the top. The mixture is enough to make 3 or even 4 puddings, depending on size of the bowls, so you might prefer to make half the recipe. Cover with buttered baking paper, butter side down and tie with string. Steam for 4 hours, or until puddings are evenly dark brown all over the top. I use a very large saucepan, place a metal trivet in the bottom to lift the pudding off the bottom, then place one pudding, then an upturned plate on top of that, then the second pudding, then the lid. If you don't have a pan large enough to do this (needs to be high enough to put the lid on) you will have to use two pans. Add enough water in the pan to come about a quarter to half way up the bottom pudding bowl and keep it simmering. Be careful to keep topping up the water, so it doesn't boil dry. (I speak from experience!)
When cold cover snugly with aluminium foil and store in a cool, dark cupboard or in warmer climates, in the fridge. To serve, steam again for 2-3 hours. Tip the pudding onto a serving dish. Heat some brandy then set it alight and pour over and bring to the table while still burning. Serve the pudding with cream or brandy butter.
Makes 3 or 4 puddings
Brandy Butter
125g unsalted butter, at room temperature
125g icing sugar
½ tsp vanilla essence
2-3 Tbs Brandy
Grated nutmeg
In a small bowl with a wooden spoon, beat butter with the sugar until light and fluffy. Gradually beat in vanilla and brandy. Pile into a small dish and sprinkle with grated nutmeg. Chill well and serve with Christmas pudding or Sago Plum Pudding.