Sago Plum Pudding, an old-fashioned dessert made from simple ingredients, is one of my all-time favourites. I think its origins must be Antipodean as I never came across it when I was growing up in England. Some in our family see it as an excuse to eat Brandy Butter when it's not Christmas. I've never been a big fan of Brandy Butter and prefer it with thick, unsweetened cream.
I like to make individual half cup puddings rather than one large one. They keep in the fridge for several days and are quicker to cook than steaming one large pudding. I love being able to whip one out of the fridge, zap it in the microwave and demolish it whenever the mood takes me, which is quite often when I know they are there! This recipe came from my mother-in-law.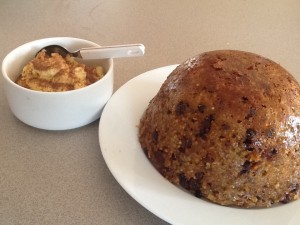 ¾ cup sago
2 cups milk
180g butter
½ cup sugar
2 cups sultanas or mixed dried fruit
2 cups breadcrumbs (made in food processor from day old bread)
2 eggs, beaten
2 tsp bicarbonate of soda
Pinch of salt
2 tsp mixed spice
To serve:
Brandy Butter, thick cream or custard
Soak sago in milk overnight. Place butter in a mixing bowl and zap in the microwave to melt. Mix in remaining ingredients then scrape into a one litre pudding bowl, lightly buttered. Cover with a piece of buttered foil, buttered side down and place in a large saucepan on something to lift the bowl slightly. A metal trivet, old saucer or a small brick will do. Add boiling water to come halfway up bowl. Cover with the saucepan lid, bring to the boil and steam steadily for 3-3½ hours, adding more water as necessary. The top of the pudding will have an even dark brown colour when ready – lift foil from time to time to check. Stand for 5 minutes then turn out, cut into slices and serve with thick cream, Brandy Butter or custard.
Serves 8-10
Note: make individual puddings in 8-10 half cup ramekins, dariole moulds or Chinese teacups, lightly buttered, as shown in the second photo. Fill almost to the top as they don't rise much. Place in a shallow ovenproof dish and add boiling water to come halfway up the cups. Cover the whole dish with a sheet of foil, buttered side down. Bake at 160°C for an hour to an hour and a half, or until evenly rich brown on top. Tip out and serve immediately or store covered in the fridge and reheat for about a minute in the microwave, covered in plastic wrap, then tip out.