Every grandma worth her salt has a chocolate self-saucing pudding in her repertoire. They're a cinch to make and because of the unique way the ingredients are assembled a delicious sauce forms under the pudding as it cooks.
Adding a couple of shots of espresso turns this into a more sophisticated dessert for coffee lovers. Adjust the amount of coffee to suit your taste or leave it out altogether and just use 2 cups (500ml) of boiling water. Kids will prefer it without the coffee.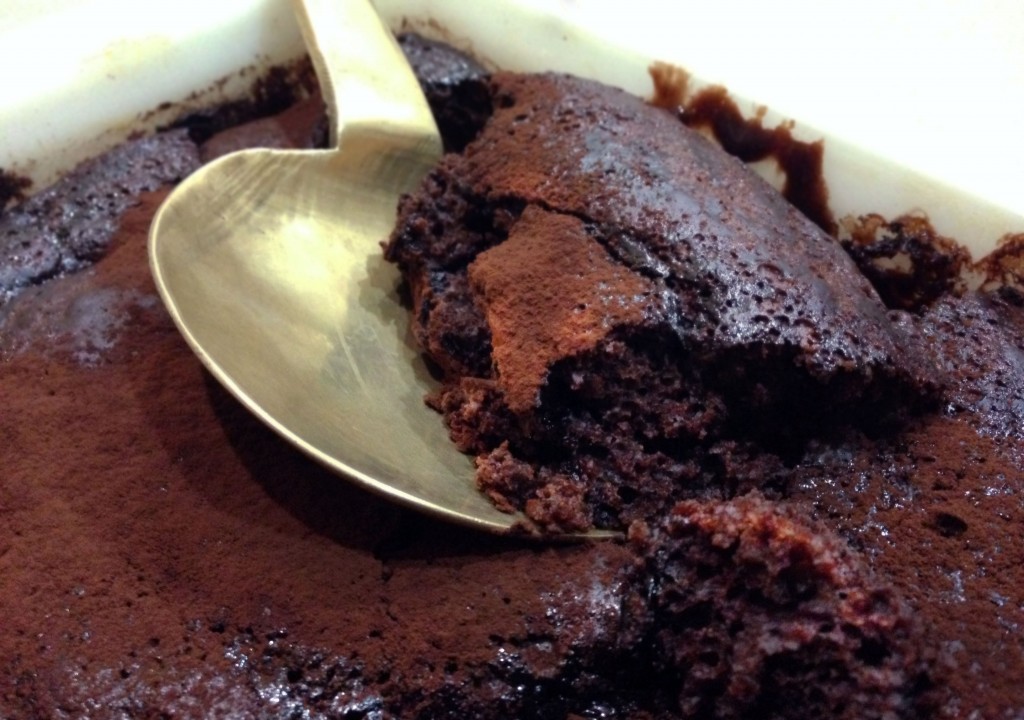 1 cup self-raising flour
½ cup caster sugar
¼ cup cocoa powder
60g unsalted butter, melted
½ cup milk
½ tsp vanilla essence
1 egg
Topping:
½ cup caster sugar
¼ cup cocoa powder
1 cup boiling water and 1 cup hot coffee (2 shots)
To serve:
Cocoa for dusting
Thick cream or vanilla ice cream
Preheat oven to 180ºC and butter a 1.5L capacity ovenproof dish such as a lasagne dish. Sift flour, sugar and cocoa into a bowl and mix. Mix melted butter with milk and vanilla and beat in the egg with a fork. Mix thoroughly into flour mixture then tip into pudding dish and spread evenly. Mix sugar and cocoa for topping and sprinkle evenly over the pudding. Mix boiling water and coffee and carefully pour evenly over the top. Bake for 30 mins or until the top is firm.
Use a sieve to lightly dust the top of the pudding with cocoa powder. Serve with cream or vanilla ice cream.
Serves 6-8
Variations: use brown sugar instead of caster sugar. Add some chocolate chips and/or chopped walnuts.