Nigella Lawson made this ice cream on her TV series some months ago and I made a mental note to give it a try. She says it's the ice cream she makes (and eats) the most.
It's very quick and easy, using roughly equal quantities of Dulce de Leche or Nestlé's Caramel Top 'n Fill and cream. A splosh of bourbon, rum or brandy is optional – and best left out if you're serving this to kids. There's no churning required and when ready to serve the ice cream is not rock hard, so you don't need to take it out of the freezer ahead of serving time, the way you do with most home made ice creams.
Dulce de Leche (known as Manjar in Chile) is basically condensed milk cooked until it turns into a thick brown caramel. It's not difficult to make from condensed milk in a pressure cooker and this is what you had to do in Australia before Nestlé's Caramel Top 'n Fill came on the market.
Nigella says this ice cream goes well with Sticky Toffee Pudding. She also suggests adding brandy instead of whisky and serving it with Christmas Pudding. I have served it with Sago Plum Pudding.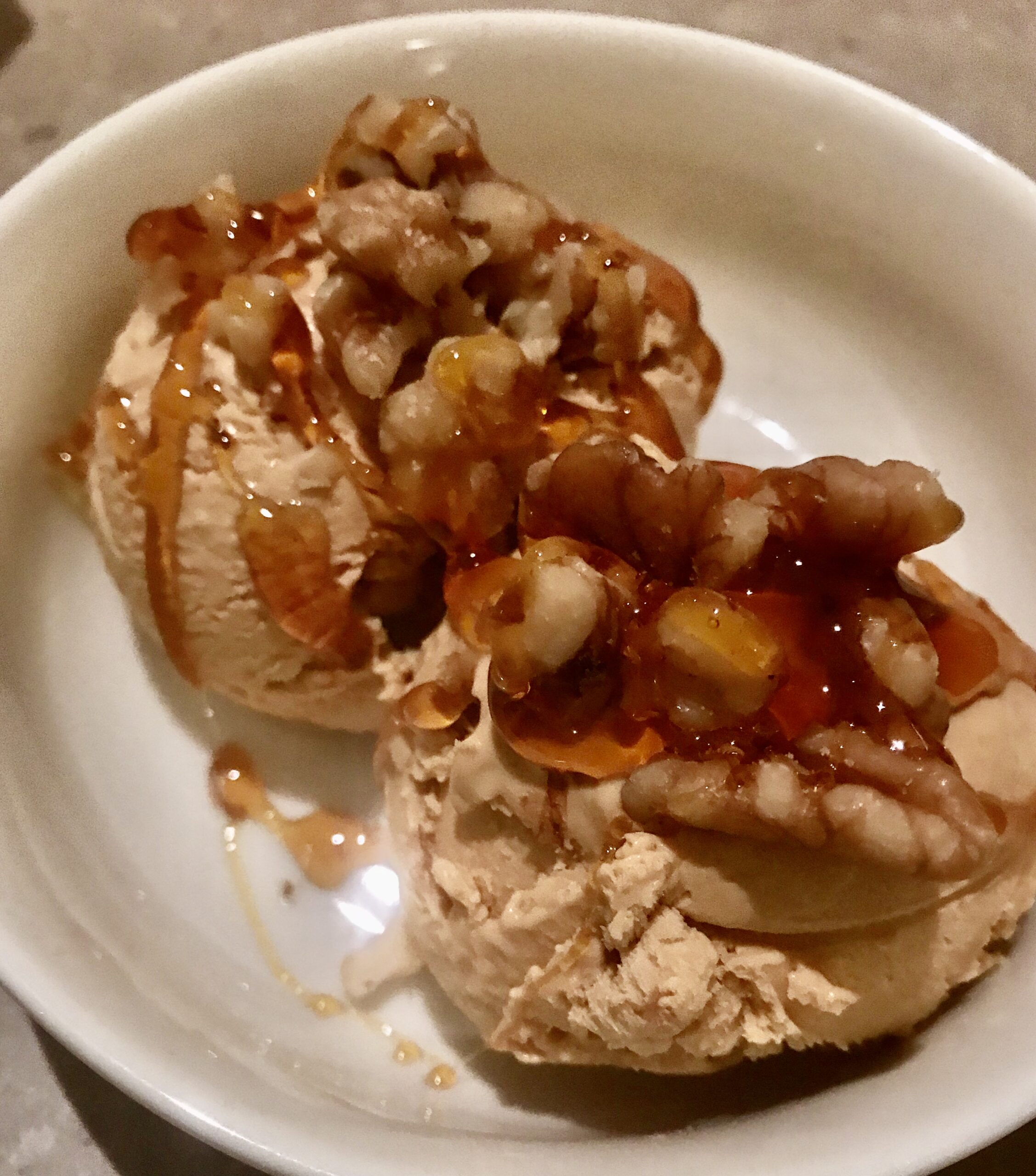 1 can Nestlé's Caramel Top n Fill (380g) or equivalent in Dulce de Leche*
300ml whipping cream
1-2 Tbs Bourbon, rum or brandy (optional)
½ tsp Maldon sea salt flakes, or to taste
To serve (optional):
½ cup pecan nuts or walnuts
Maple syrup or golden syrup or honey
Place dulce de leche or Top 'n fill in a bowl and mix with electric beaters until smooth. Add the cream and continue whipping until thick and smooth. Gradually mix in the alcohol, if using and salt to taste. Scrape into a container with a lid, then freeze for 8 hours or overnight.
Optional topping: Place pecans or walnuts in a small frying pan and stir over moderate heat until lightly toasted, then chop roughly.
Serve ice cream topped with the nuts and a drizzle of maple syrup, golden syrup or honey.
Serves 8
*or Bonne Maman Caramel Spread