Somewhere towards the end of January I get cravings for a curry. Something spicy and a complete contrast to the food we tend to eat over the holiday period, with ham or turkey as the centrepiece.
As a change from the usual roast lamb with mint sauce, try this Indian-style spicy roast lamb. Serve the lamb with vegetables or skip the vegetables and serve it in wraps. Good for casual entertaining or teenage kids, where you can let everyone fill their own.
When it's first made the coriander chutney is bright green. I made mine ahead and the colour changed, so it's not so pretty in the photo.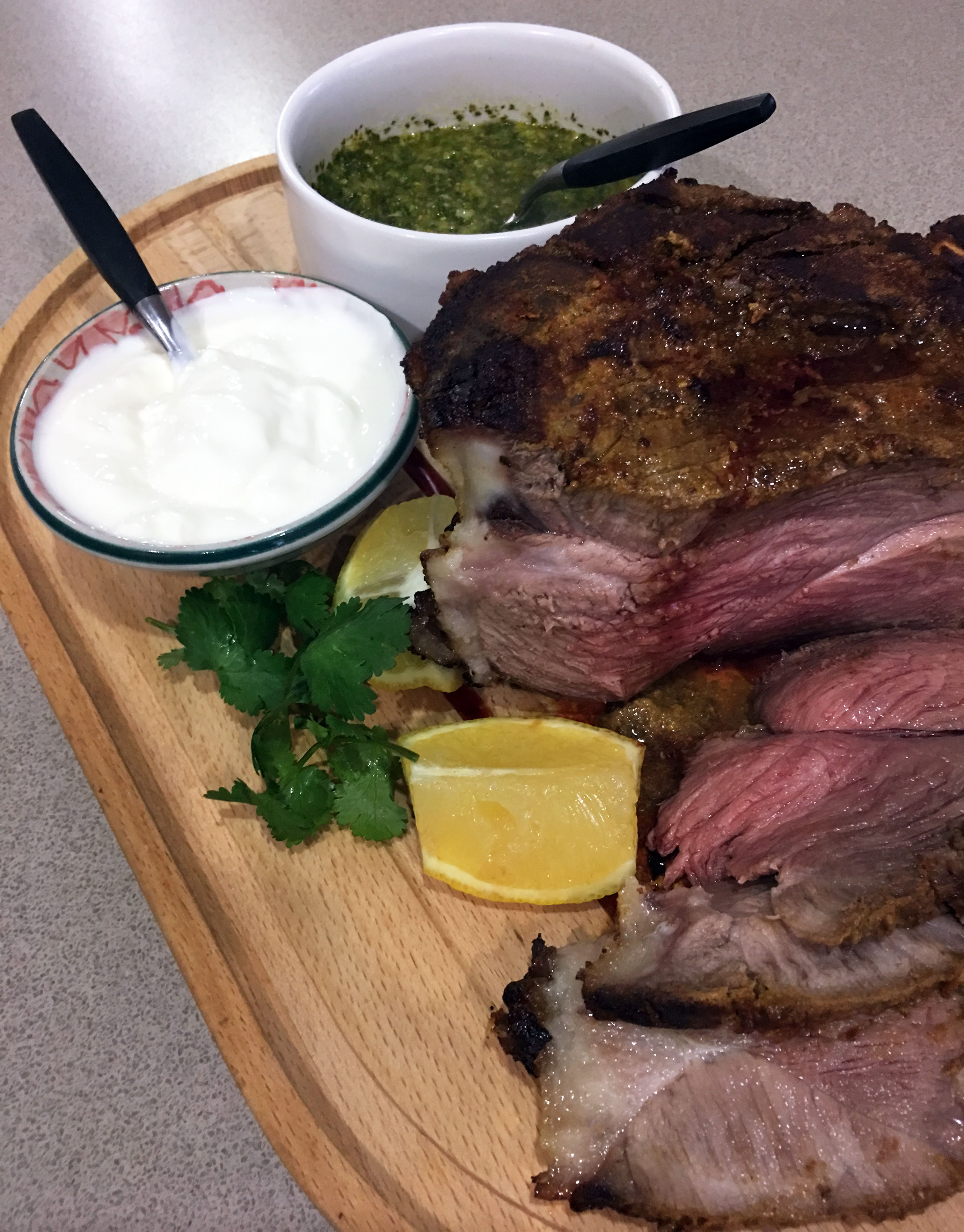 1 leg of lamb
Spicy Marinade:
2 tsp ground cumin
1 tsp ground coriander
1 tsp ground cinnamon
1 tsp chilli flakes or powder
½ tsp ground turmeric
4 cloves garlic, crushed
2 tsp grated ginger
1 Tbs lemon or lime juice
1 Tbs oil
1 Tbs tomato paste
1/3 cup plain yoghurt
Coriander Chutney:
1 cup coriander leaves, tightly packed
3 spring onions, sliced
1 long fresh green chilli, seeds removed
2 cloves garlic, crushed
2 Tbs lemon or lime juice
½ tsp ground cumin
Salt to taste
1 Tbs water, if needed
Garnish:
Coriander sprigs
Lemon wedges
Make slashes with a sharp knife all over the lamb. Place in a roasting pan. Place first 5 ingredients for Spicy Marinade in a small frying pan and stir over moderate heat until the spices smell fragrant. Place in a bowl, add remaining marinade ingredients and mix well. Spread all over the meat and rub in well. Leave lamb to marinate for a few hours at room temperature or loosely covered in the fridge overnight.
Pre-heat oven to 180°C. Cover lamb with foil and roast for an hour and a half. Remove foil and roast for a further 30 minutes or until done to your liking. Remove from the oven and leave to rest, loosely covered with foil, for about 15 minutes, then carve thinly.
Place all ingredients for Coriander Chutney in food processor and process till chunky-smooth, stopping halfway to scrape down the sides. Add water if it's too thick.
Serve lamb garnished with with coriander sprigs and lemon wedges with vegetables of your choice and the chutney. Or serve it in warm wraps with the chutney and some extra plain yoghurt and maybe some shredded lettuce or rocket.
Serves 8