Looking for something tasty to serve mid-week? This easy recipe is one you will probably make again and again. It's easy to halve the quantities if there are only two of you. Adding extra butter to the sauce at the end is very French and decadent, so if you're worried about cholesterol by all means leave it out.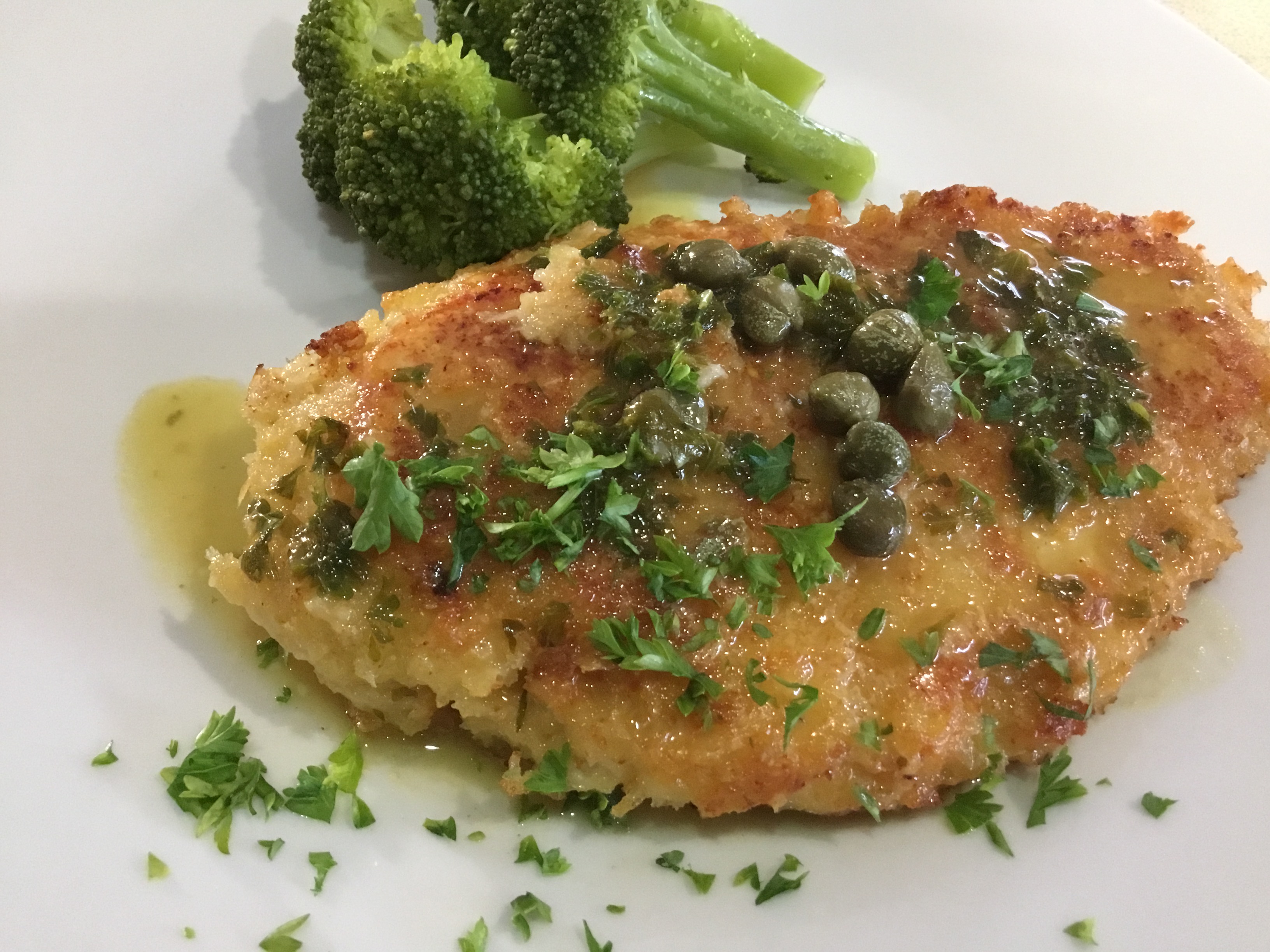 4 skinless, boneless chicken breasts
1/3 cup plain flour, seasoned with salt and pepper
2 eggs, beaten
1¼ cups Panko breadcrumbs
60g Parmesan cheese, grated
25g butter
1 Tbs olive oil
½ cup dry white wine
2 Tbs lemon juice
2 Tbs drained capers
50g butter
2 Tbs finely chopped parsley
Hammer out the chicken breasts a bit with a meat mallet to an even thickness. If the breasts are huge, trim some off and keep for another meal – a stir-fry for example. Place seasoned flour, beaten eggs and Panko crumbs mixed with grated cheese in three separate shallow bowls. Coat each chicken breast first in the flour, then the beaten egg and lastly the crumb mixture, patting it on firmly.
Heat the 25g butter and olive oil in a large frying pan and fry the chicken for 5-7 minutes each side, or until golden brown and cooked through. Check with a sharp knife if you're unsure. Remove chicken from pan and keep warm while you prepare the sauce.
Wipe out frying pan and add the wine and lemon juice. Cook for 2-3 minutes over moderately high heat, until reduced by about half. Add capers and the 50g butter cut into smaller bits, stirring constantly, until butter has barely melted. If sauce splits add a tablespoon of cold water and stir briskly until it emulsifies again. Add parsley, season to taste and spoon over the chicken. Serve with a green vegetable.
Serves 4