I've had this recipe for decades, but haven't made it for some time.
In the meantime I read somewhere that salting and draining eggplants to remove bitterness is a waste of time, so I don't bother any more. Removing that stage from the recipe speeds things up.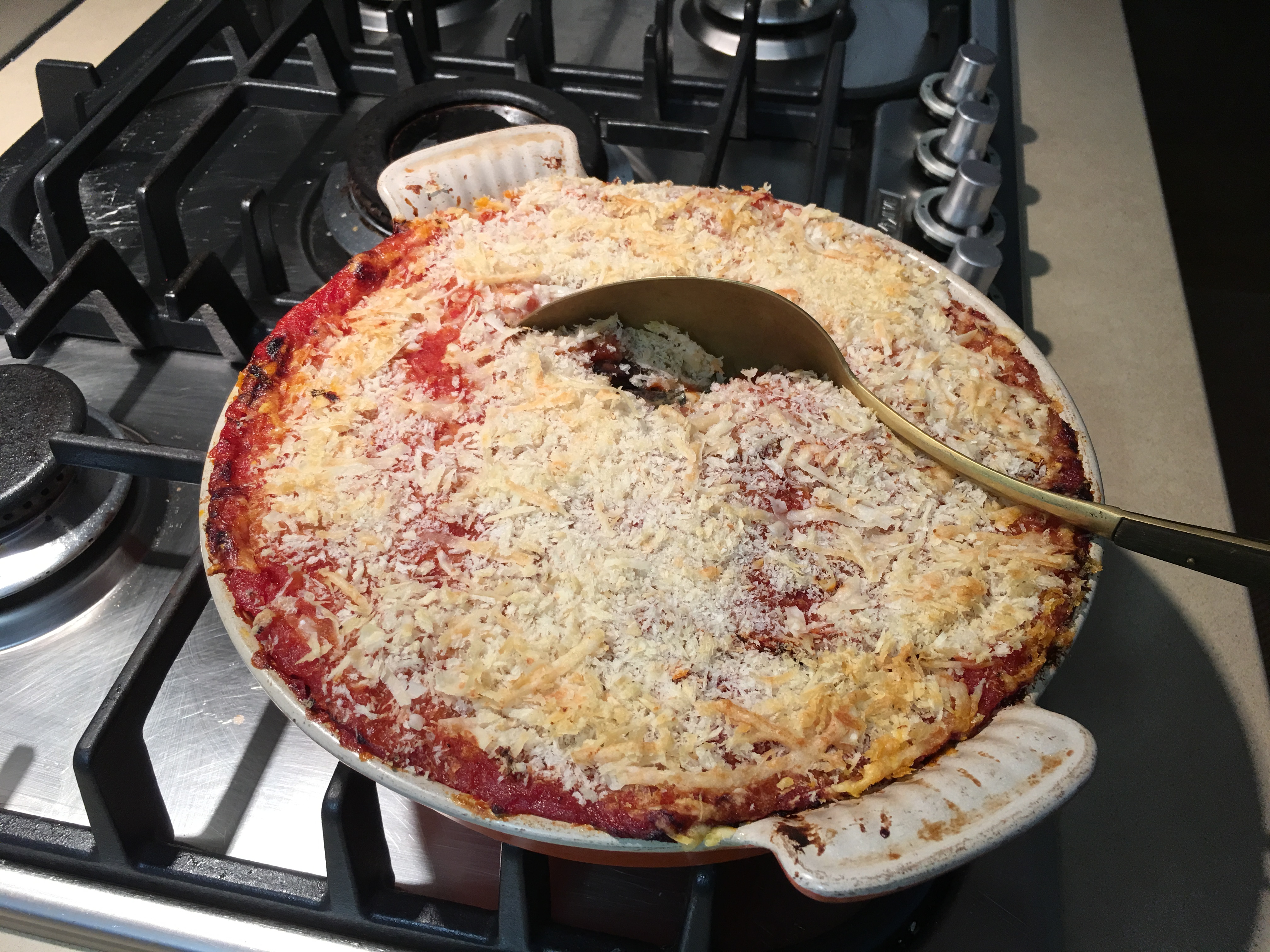 2-3 eggplants (aubergines) (about 800g)
olive oil
2 eggs
½ cup cream
Salt and freshly ground black pepper
Tomato Sauce:
1 Tbs olive oil
1 small onion or half a large one, finely chopped
400g tomatoes, peeled and chopped or 1 (410g) can chopped tomatoes
Salt and freshly ground black pepper, to taste
1 tsp sugar
Topping:
4 Tbs Panko breadcrumbs (see note below)
3 Tbs grated Parmesan cheese
Preheat oven to 180°C. Slice eggplants  about 1 cm thick. Heat a little oil in a large frying pan until hot, then add eggplant slices a few at a time and cook on both sides until golden brown. Repeat with remaining slices adding more oil as necessary, but not too much as eggplants have a tendency to act like blotting paper. Drain eggplant slices on paper towels then arrange then overlapping in a shallow ovenproof dish, in one or two layers.
Beat eggs, cream, salt and pepper and pour over.  Bake for 20-30 mins or until the cream mixture has set. Pour over tomato sauce (see below) and spread evenly. Mix panko crumbs and Parmesan and sprinkle over the top. Bake for a further 15 mins or until browned. Serve with a salad.
Tomato sauce: while the eggplant slices are frying, start the tomato sauce. Heat oil in a frying pan and add onion. Cook gently, stirring, until soft but not brown. Add tomatoes then simmer for a few minutes until a chunky, thickish sauce has formed. Add salt, pepper and sugar.
Serves 4 as a main course or 8 as a starter or side dish
Note: Panko breadcrumbs are chunky, Japanese-style breadcrumbs sold in many supermarkets. Alternatively, just blitz a slice of stale bread in the food processor.