Semi-dried tomatoes, sold in the deli section of most Australian supermarkets, were the inspiration for this colourful recipe.
If you can't buy them where you live make your own by slicing some Roma tomatoes in half lengthwise and putting them on a rack, cut side up, over a shallow tray in a low oven (about 140°c), sprinkled with a little salt, pepper and sugar, for 3-4 hours. When they look somewhat shrivelled and semi-dried remove and drizzle with a little olive oil. You don't want too much moisture left in them or the tart will be soggy.
As we ate this delicious tart we agreed that toasted pine nuts would be a good additional garnish for next time.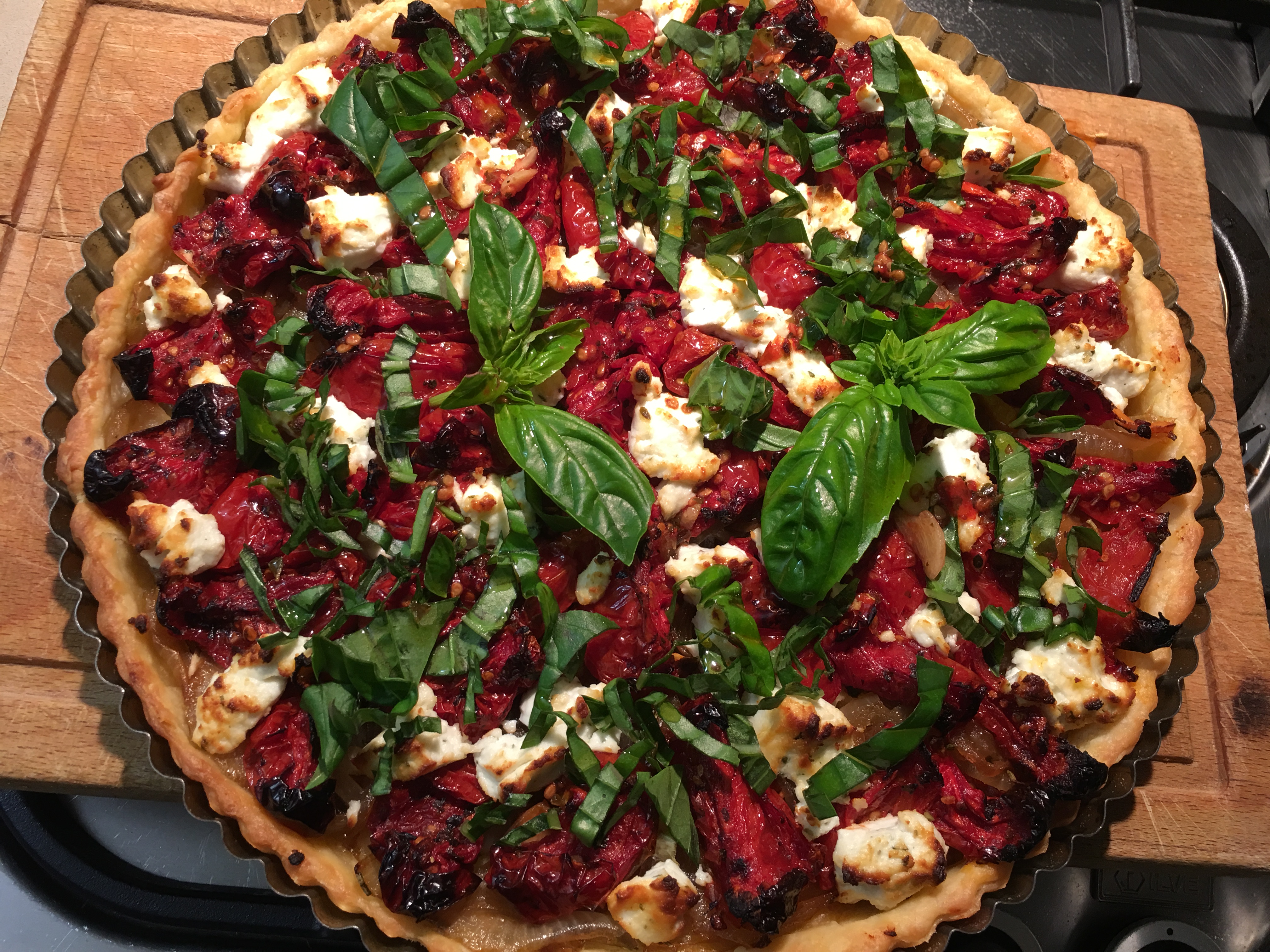 1 sheet bought puff pastry
2 large onions, sliced
¼ cup olive oil
2 tsp sugar
good pinch of salt
1 Tbs balsamic vinegar
½ cup water
300g semi-dried tomatoes from the supermarket Deli
110g soft goat's cheese
To garnish:
Fresh basil leaves
Toasted pine nuts (optional)
Preheat oven to 180°C. Roll out pastry and use to line a large metal tart tin. Prick all over with a fork then bake blind (without filling) for 10 minutes or until lightly browned.
Meanwhile heat oil in a large frying pan and cook the onions gently for about 15 minutes or until soft. Add the sugar, salt and balsamic vinegar and continue to cook, stirring, for 5-10 minutes longer. Add half the water, stir well then continue cooking, stirring often, until it has evaporated. Repeat with the rest of the water. Turn off heat.
Spread onions over base of tart. Top with tomatoes and arrange the crumbled cheese in between. Bake for 25-30 mins or until pastry is golden brown and the cheese and tomatoes are starting to brown.
Cool tart for 10 minutes, then serve garnished with fresh basil leaves (and pine nuts if using) accompanied by a simple green salad.
Serves 4-6
Substitutes: use feta instead of goat's cheese