As we were about to fly out of Los Angeles I was browsing through cookbooks in the airport bookshop and came across one published by a restaurant in LA called Gjelina. Some of the recipes made my mouth water, so a visit to this restaurant is definitely on the "to do" list for next time.
Salted Caramel (or Butterscotch) Pots de Crème is one of Gjelina's signature dishes and everyone says they're to die for. As with all good recipes, word has got around and there are now several different versions online. Before attempting to make them I read through several variations, as well as numerous comments from readers who had tried them. The variations included different amounts of egg yolks and cream, how long to cook the desserts to ensure they set and whether to serve them with whipped cream or crème fraîche. Our verdict is that they are nice with either, so it's up to you.
This dessert is sweet and sinful but OMG it's good.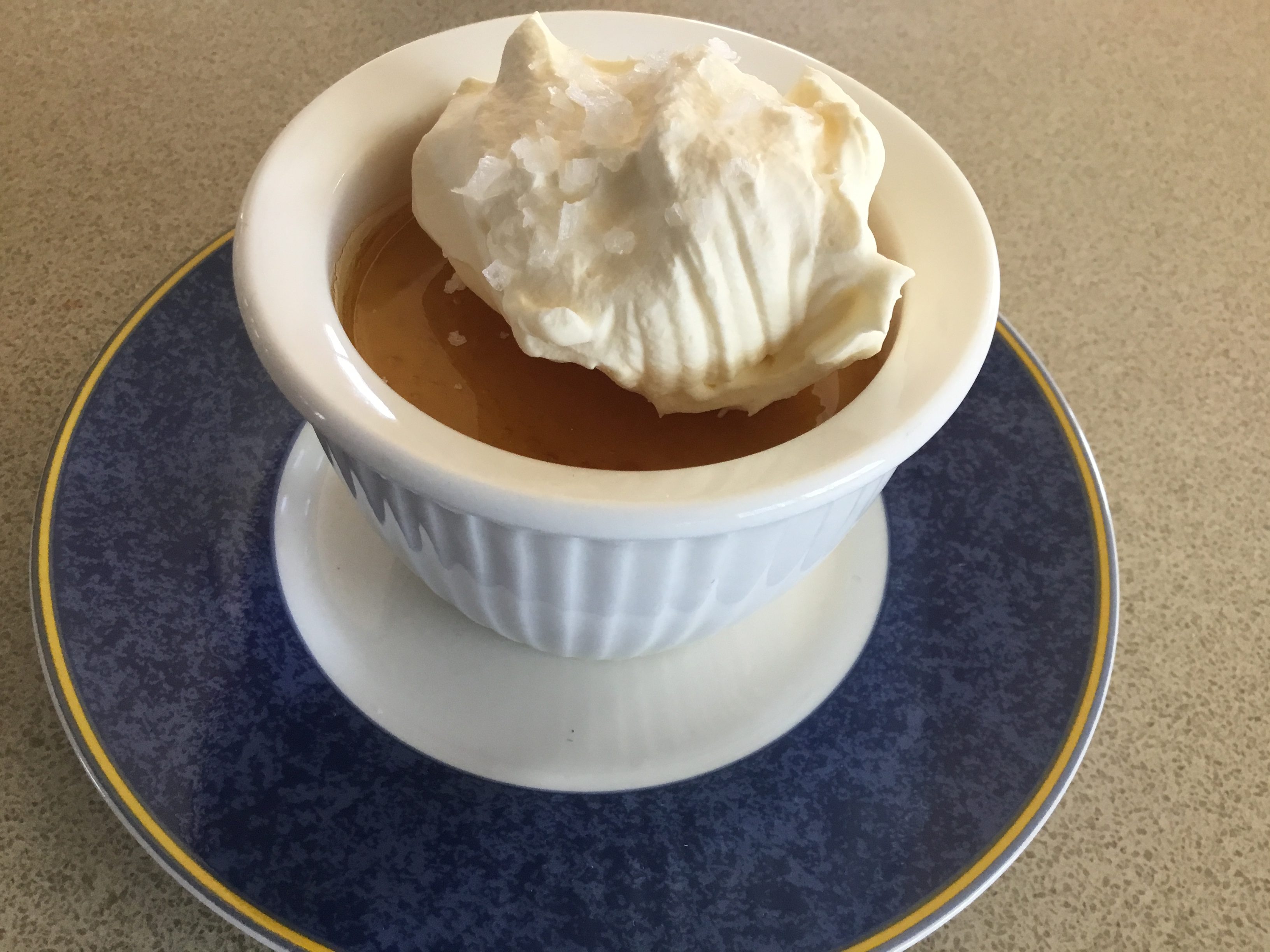 75g butter
½ cup brown sugar
600ml cream
1 tsp salt
1 tsp vanilla essence
3 egg yolks
Caramel:
½ cup sugar
6 Tbs water
To serve:
Whipped cream or Crème fraîche (or sour cream)
Maldon salt flakes
Preheat oven to 165°C. Melt butter and brown sugar then let it bubble over moderate heat for 3-4 minutes. Swirl pan occasionally and watch it doesn't burn. Whisk in the cream slowly with a balloon (hand) whisk. Return to the boil, stirring then add the salt and vanilla. Whisk egg yolks in a mixing bowl then pour in the hot cream mixture, whisking all the time. Strain through a sieve into a jug then pour into 6 small ramekins or coffee cups.
Place ramekins in a baking dish or pan and pour boiling water to come halfway up. Cover with foil then bake for an hour, or until set but still slightly wobbly. Cool then refrigerate overnight, covered.
Caramel: Place sugar and water in a pan and heat until dissolved. Cook over moderate heat, swirling the pan from time to time, until whisky-coloured. Carefully spoon a little caramel on top of each dessert, tipping so it covers. You don't need much – max one tablespoon for each pot. The caramel will set hard and you need to serve the desserts soon afterwards. If you do this stage ahead of time and put the desserts back in the fridge the caramel may become chewy. Actually it's quite nice but much harder to eat chewy toffee than hard caramel in polite company! So I suggest you add the caramel topping close to serving time..
Serve the pots de crème with whipped cream or crème fraîche or sour cream and a few flakes of Maldon salt flakes.
Serves 6