Between the vegetable patch at the farm – where we spend  every second weekend – and the one in Canberra, we produce more than half the fruit and vegetables we eat, with some to give away to family and friends during summer. All organic of course.
There's no shortage of space at the farm so we grow things like strawberries, raspberries, asparagus, potatoes, onions and garlic as well as pumpkins, cucumbers, tomatoes and zucchini. We're also establishing an orchard, with quince, apples, pears and plums. In town where space is more limited we stick to herbs, radishes, lettuces and rocket.
You can't grow salad greens in northern Europe in the middle of winter, but here in Canberra a typical winter's day is often 15 to 20 degrees Celsius warmer than the nighttime sub-zero temperatures. This means that the soil doesn't freeze solid and allows some vegetables to be grown in sheltered areas of the garden. A piece of glass or plastic helps protect the foliage from the frost
Rather than going out and buying something we tend to eat what we have. At the moment, it being the middle of winter, we have spinach, carrots, rocket and lettuce. Not much in the way of fruit, apart from the lemon tree which is laden and lots of cooking apples I froze during summer.
Carrots from the garden were the inspiration for this soup which showcases the natural sweetness of root vegetables. The coconut milk gives a velvety, creamy texture and the pesto makes a nice contrast in colour and flavours. The pesto in the photo is a bit dark because I froze it during summer. Still tastes good though.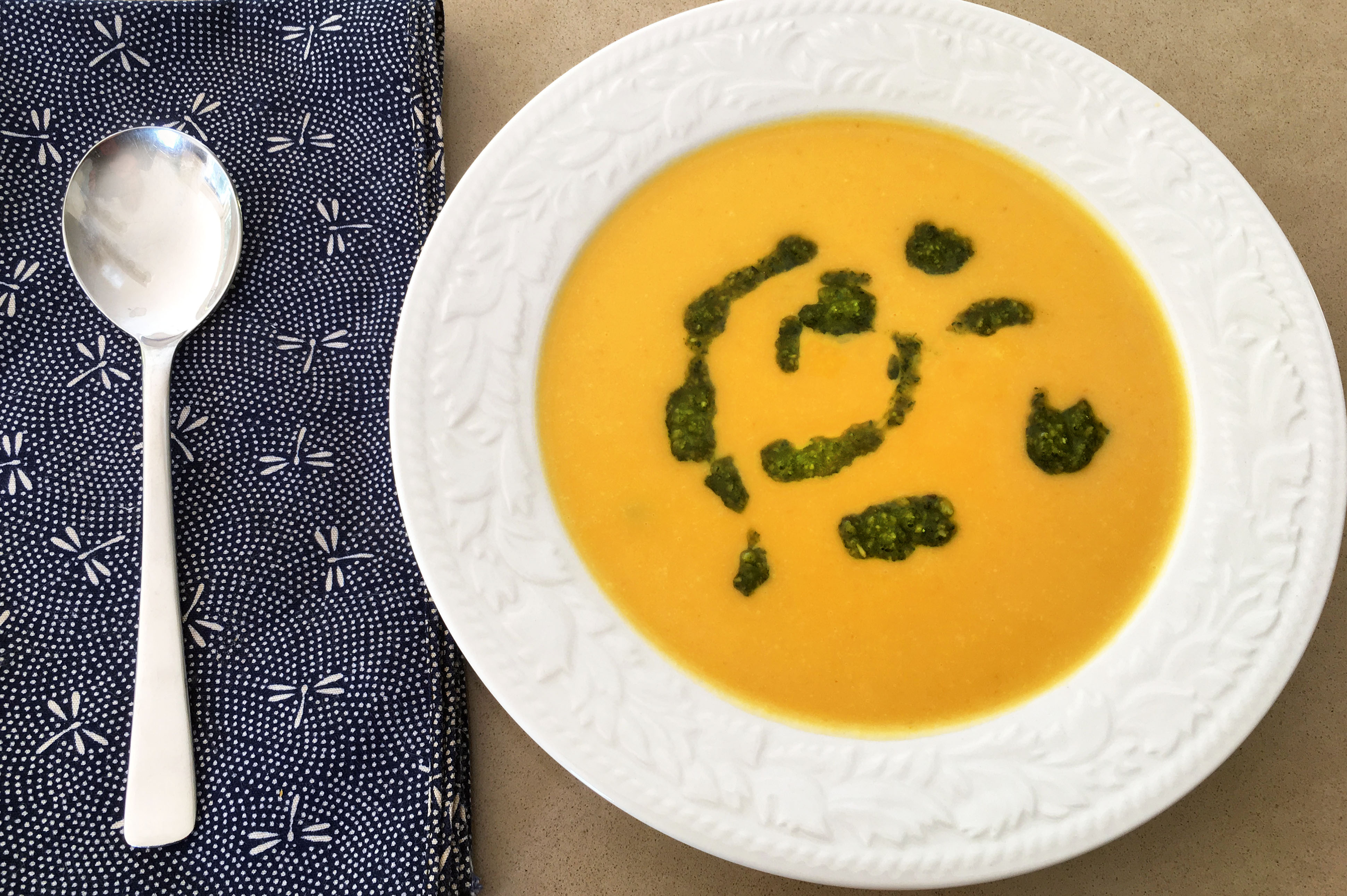 1 large onion, chopped
25g butter
About 1kg sweet potatoes and carrots (half and half or whatever)
1 can coconut milk or cream
2 chicken or vegetable stock cubes
Water
To serve:
Milk
Salt and freshly ground black pepper
Pesto (home-made or bought)
In a large heavy-based saucepan, heat butter and cook onion for 5-10 minutes or until soft but not brown. Add sweet potatoes and carrots, peeled and cut into chunks, the coconut milk or cream, enough water to cover the vegetables and the stock cubes. Simmer for 20-30 minutes or until vegetables are soft, then cool a bit and blend in a blender until smooth. To serve, reheat with enough milk to make to desired consistency. Season to taste and garnish with some pesto, thinned down a bit with some olive oil if it's too thick.
Serves 6-8