My friend Doug and his wife had a holiday in Sri Lanka last month. The gourmet food tour was organised by a company called Intrepid Travel and they had a fantastic time tasting delicious local food at restaurants, cafes and private homes, as well as visiting food markets and factories.
This Squid Curry was one of Doug's favourite dishes so he sent me the recipe and I decided to give it a try. I left out the pandanus leaf because the Asian supermarket I use only sells it in huge bunches, but I did buy the curry leaves. The ones I didn't use will keep for next time. I added a touch of sweetness with the palm sugar and used spring onion as a garnish because I didn't have any coriander.
The squid itself doesn't have much flavour but the overall result makes a nice change from the usual chicken, beef or pork curries.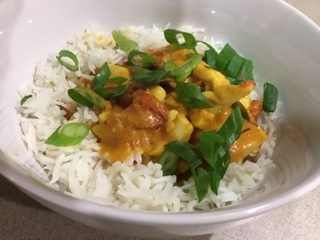 1 kg squid tubes, cleaned (I used a frozen pack)
3 Tbs vegetable oil
10 dried curry leaves (I used a few more than that)
1 tsp each whole mustard and whole fennel seeds
A square inch piece of Pandanus leaf (optional)
1 Tbs grated or finely chopped fresh ginger
4 cloves garlic, finely chopped
Half a large onion or 3-4 French shallots
1 tsp each ground cumin, coriander and turmeric
2 x 400g cans chopped tomatoes
1 x 400ml can coconut milk or cream
Ground cayenne pepper and salt to taste
2-3 tsp palm sugar or brown sugar
Garnish:
Chopped fresh coriander or thinly sliced spring onion
Cut squid into bite-sized chunks and score any thicker pieces. Mine were all the same thickness so I didn't need to do this. Wash and dry with paper towels. Heat oil in a wok or large pan over high heat. When very hot add the curry leaves, pandanus leaf and whole seeds and stir for a few seconds then add the ginger, garlic and onion. Stir fry until starting to brown then add the ground spices and tomatoes. Stir-fry for a few minutes.
Add coconut milk and mix well. Simmer to reduce slightly, season with cayenne pepper and salt. Can be prepared ahead of time to this point. Mix in squid and cook for a few minutes until tender. This won't take long and if you overcook it the squid will be rubbery.
Garnish with coriander or spring onion and serve with steamed rice.
Serves 4-6