I found this recipe in the Financial Times newspaper which I was reading on a recent QANTAS flight from Bangkok to Sydney. I tore it out as  I'm a big fan of sweet potatoes and although we're not vegetarian I tend to cook a meatless evening meal at least once a week.
So last night was try-out night and the recipe didn't disappoint. It said to bake the sweet potatoes on a bed of salt to draw out the moisture. I don't think this made any difference, so I would leave that out next time.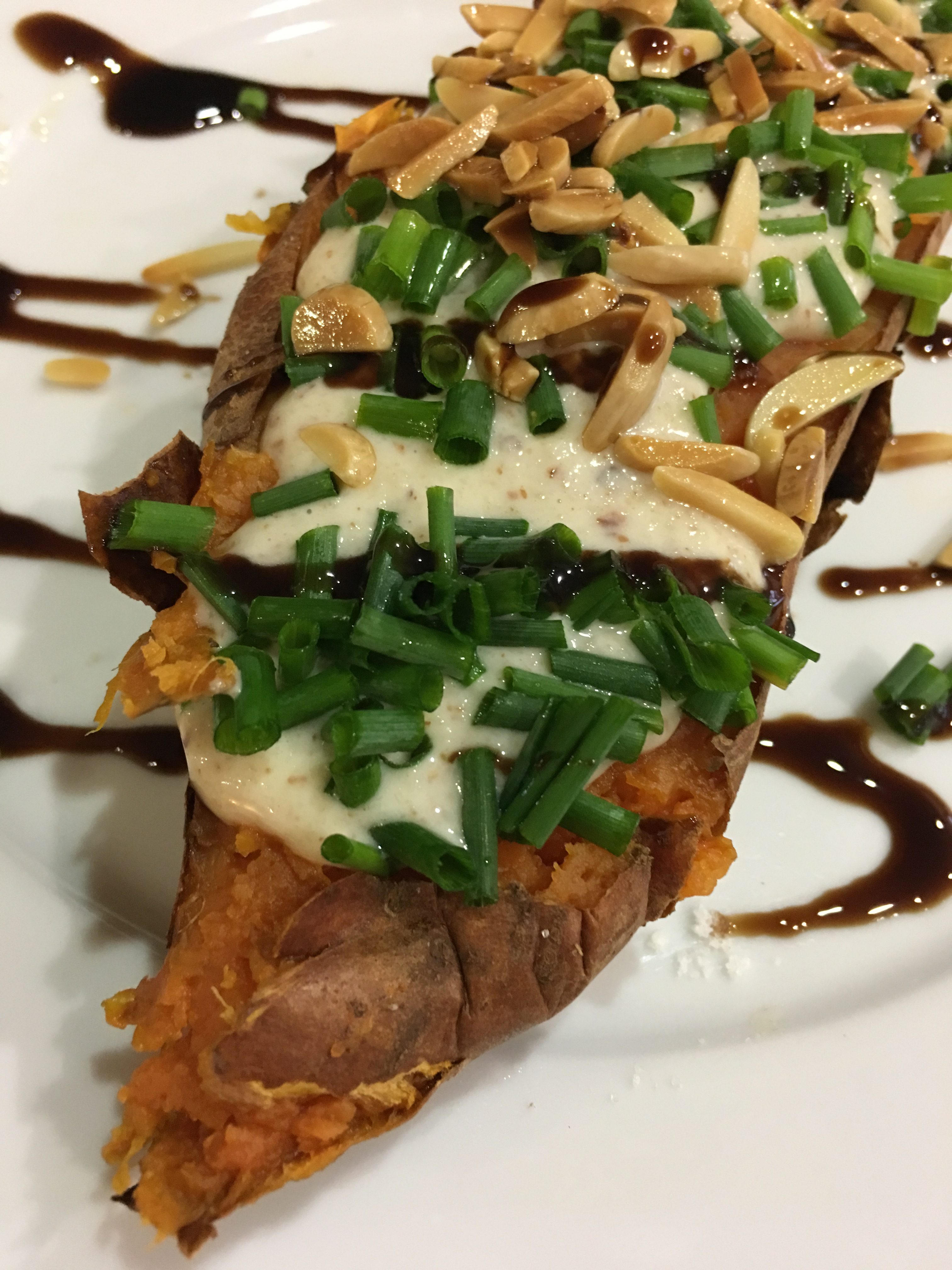 2 large sweet potatoes
Tahini:
100g whole shelled almonds
Small clove garlic, peeled
3 Tbs vegetable or olive oil
Pinch salt
2 tsp lemon juice
4 Tbs water
Garnish:
2 Tbs almonds roughly chopped (blanched or unblanched, I used slivered)
2 tsp oil
pinch salt
2 spring onions, thinly sliced or 2 Tbs snipped chives
Pomegranate or date molasses (or fig glaze)
Preheat oven to 200°C. Wash and dry the sweet potatoes, but don't peel them. Line a baking tin with foil and place the sweet potatoes on top. Bake for an hour or until soft and a knife can be inserted easily.
Meanwhile make the Tahini by blitzing the almonds in a food processor until fine then adding the garlic, oil, salt, lemon juice and water. Taste and adjust seasoning. It will thicken up as it sits. If made ahead and refrigerated you may need to mix in a little water when serving.
For the garnish, place nuts in a small frying pan with the oil and salt and stir over moderate heat until golden. Turn off heat.
To serve, cut the sweet potatoes in half horizontally. Squeeze to open up the flesh a bit then top with a couple of dollops of tahini. Top with the nuts, the spring onions or chives and a drizzle of molasses or glaze.
Variation: use pine nuts instead of almonds.
Serves 2-4