Fed up with ham and turkey? Here's a quick vegetarian dish made with eggplants, tomatoes and halloumi cheese.
Halloumi is a semi-hard cheese which originated in Cyprus. I first ate it at a lunch hosted by my brother and sister-in-law at an Airforce base in the UK where they were stationed nearly 20 years ago. They cooked the halloumi on the barbecue and our kids decided to rename it squeaky cheese, because of the noise it makes as you bite into it.
Some eggplant recipes involve lots of frying. This method doesn't, making it truly quick and easy.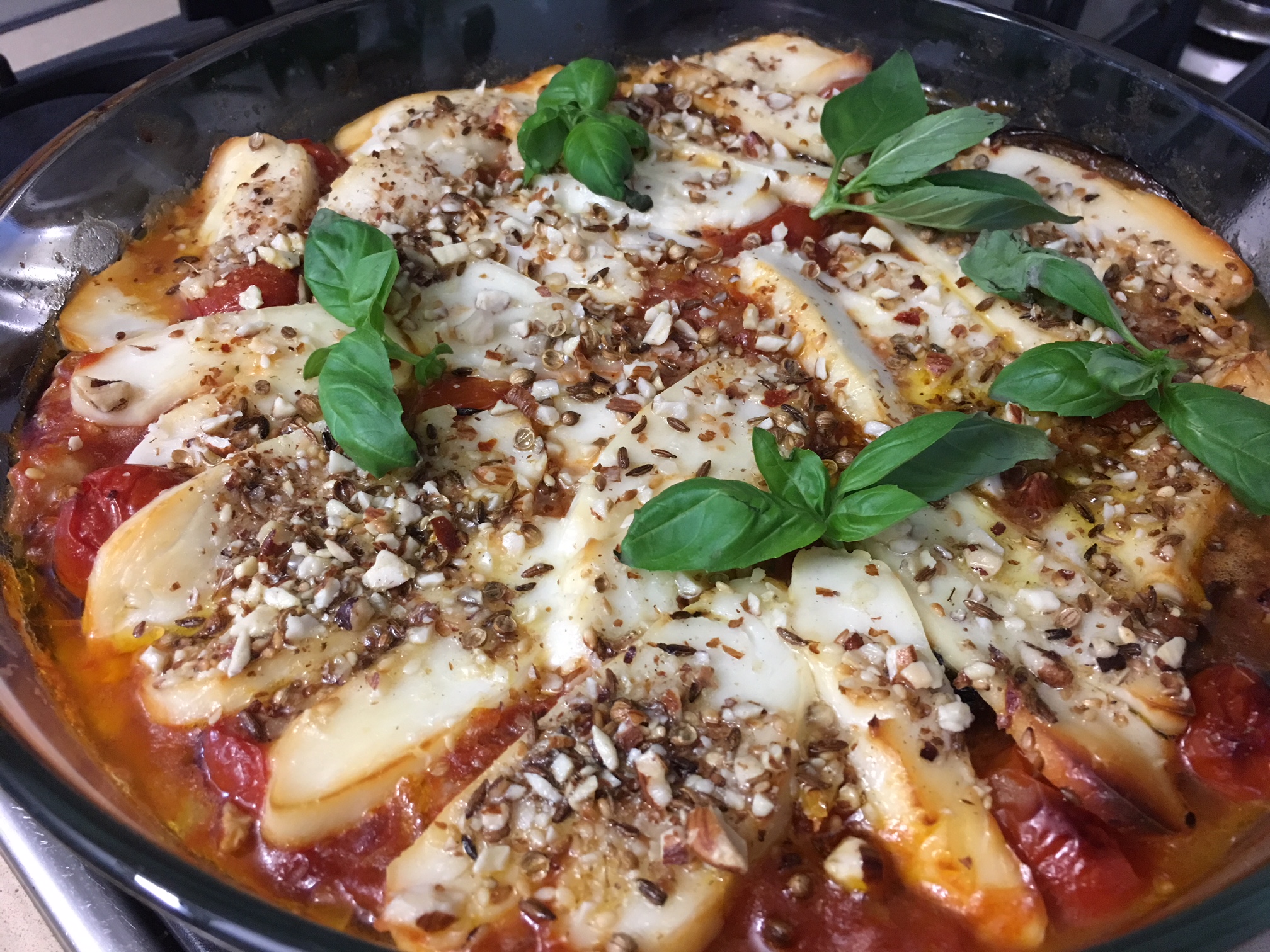 2 medium to large eggplants, halved lengthwise
3 Tbs olive oil
Salt and freshly ground black pepper
1 onion, finely chopped
1 clove garlic, crushed
1 tin tomatoes (chopped)
2 tsp sugar
250g halloumi cheese
2-3 Tbs Dukkah (bought or home-made)
Fresh basil to garnish
Preheat oven to 180°C. Place eggplant halves in a baking dish in one layer, cut side up. Make deep cuts in the surface of each, one way and then the other, so you cut the flesh into squares but not right through.  Brush with one tablespoon of the olive oil and season. Bake for 30 minutes or until eggplant is tender.
Meanwhile heat another tablespoon of olive oil in a frying pan and add onion and garlic. Cook gently for a few minutes till soft but not brown. Add the tomatoes and sugar, season to taste, then simmer for 5-10 minutes to thicken a bit. Spread over the eggplant. Slice halloumi cheese and arrange over the top. Brush the halloumi with the third tablespoon of olive oil. Sprinkle with dukkah, then put the dish back in the oven for 25-30 minutes or until halloumi is golden.
Garnish with fresh basil and serve with a mixed salad.
Serves 4
Substitutions: use fresh, peeled tomatoes instead of a can; use a different cheese such as sliced cheddar or Manchego (hard sheep's cheese from Spain) or whatever you have.