If you're a regular reader of this blog you will have noticed that we like to give meat and fish a rest about once a week and go vegetarian.
A frittata is an egg-based Italian dish, similar to an omelette. A vegetable frittata makes a tasty light supper and any leftovers are nice cold the next day. Choose a medium sized non-stick frying pan (mine is 25 cm or 10 inches) with a metal handle, so it can go in the oven.
When the frittata comes out of the oven the metal handle will be very hot. I forgot and have the blisters to show for it.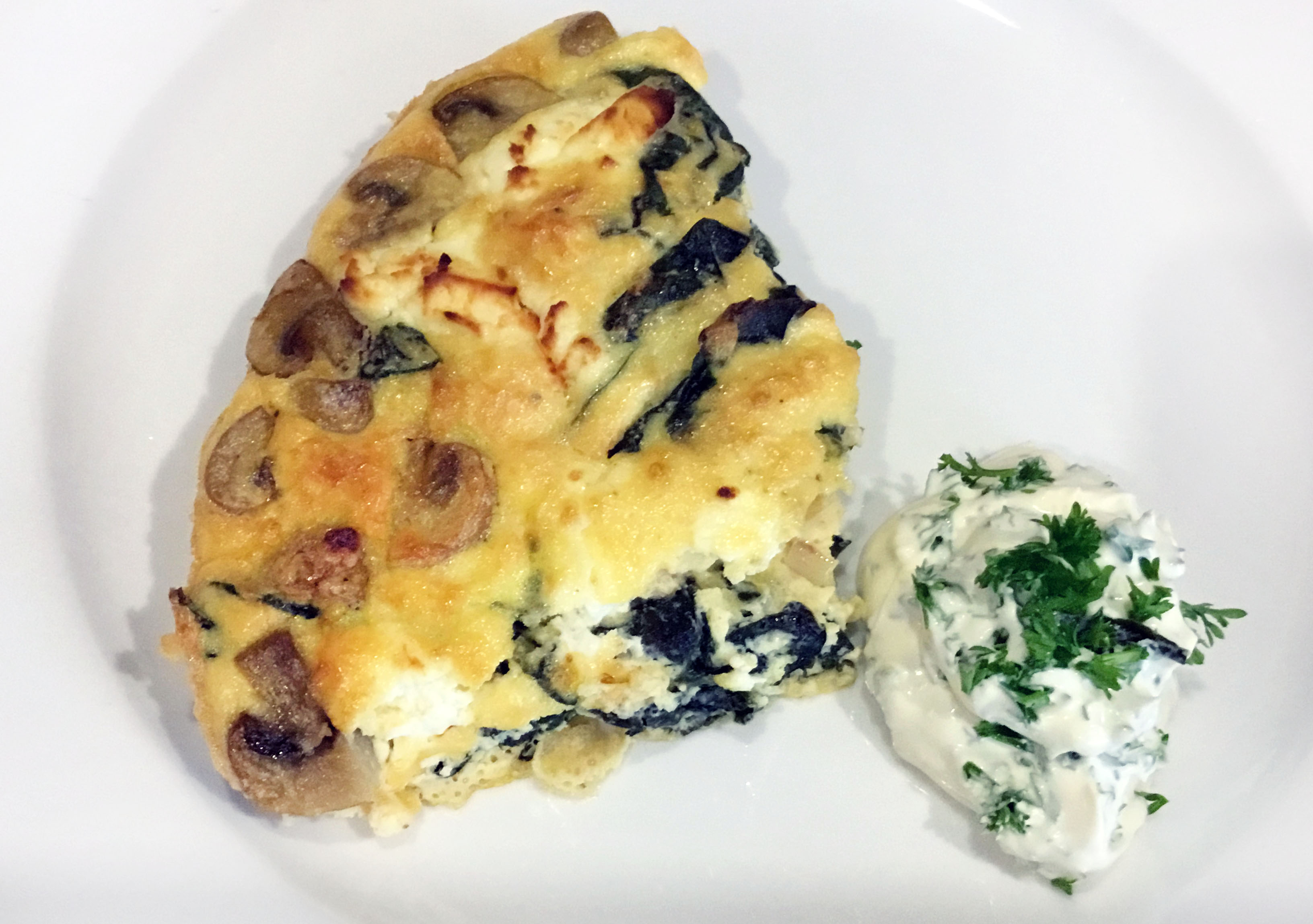 1 Tbs olive oil
60g butter
200g mushrooms, cut into quarters or sliced if large
1 clove garlic, finely chopped
About half a bunch of spinach
6 eggs
½ cup sour cream or fresh cream
Grated rind and juice of half a lemon
2-3 Tbs grated Parmesan cheese
1 tsp salt and freshly ground black pepper to taste
Sour Cream Sauce (optional):
½ cup sour cream
2-3 Tbs finely chopped parsley
Preheat oven to 180°C.
Heat half the butter and oil in the frying pan and cook the mushrooms and garlic over moderately high heat for 2 minutes, stirring, then transfer to a bowl. Strip the spinach from the stalks and discard the stalks. Tear the spinach into smaller pieces. Add to the frying pan with the remaining oil and butter and cook, stirring, for 2 minutes until wilted. Add to the bowl with the mushrooms.
In another bowl using a balloon whisk beat the eggs, sour cream, lemon juice and rind, grated Parmesan and salt and pepper. Pour into the frying pan, Scatter the spinach and mushrooms and any juices over the top. Place small pieces of goat's cheese or feta all over the top. Place back on the stove until the frittata starts to set, then bake for 10 minutes, or until puffed and golden. Cut the frittata into wedges and serve with a mixed salad and the sour cream sauce.
Sour Cream Sauce: mix sour cream with chopped parsley.
Serves 2-3
Variations: use small broccoli florets instead of spinach; use Pecorino instead of Parmesan cheese; use a mixture of fancy mushrooms instead of the usual ones