With zucchini growing in the garden at the moment I am on the lookout for new ways to use them.
This recipe appeared in a recent Weekend Australian magazine as a salad. I have adapted it by adding the rice and heating the marinade (rather than discarding it) and pouring it over the finished dish. This recipe is quick but delicious.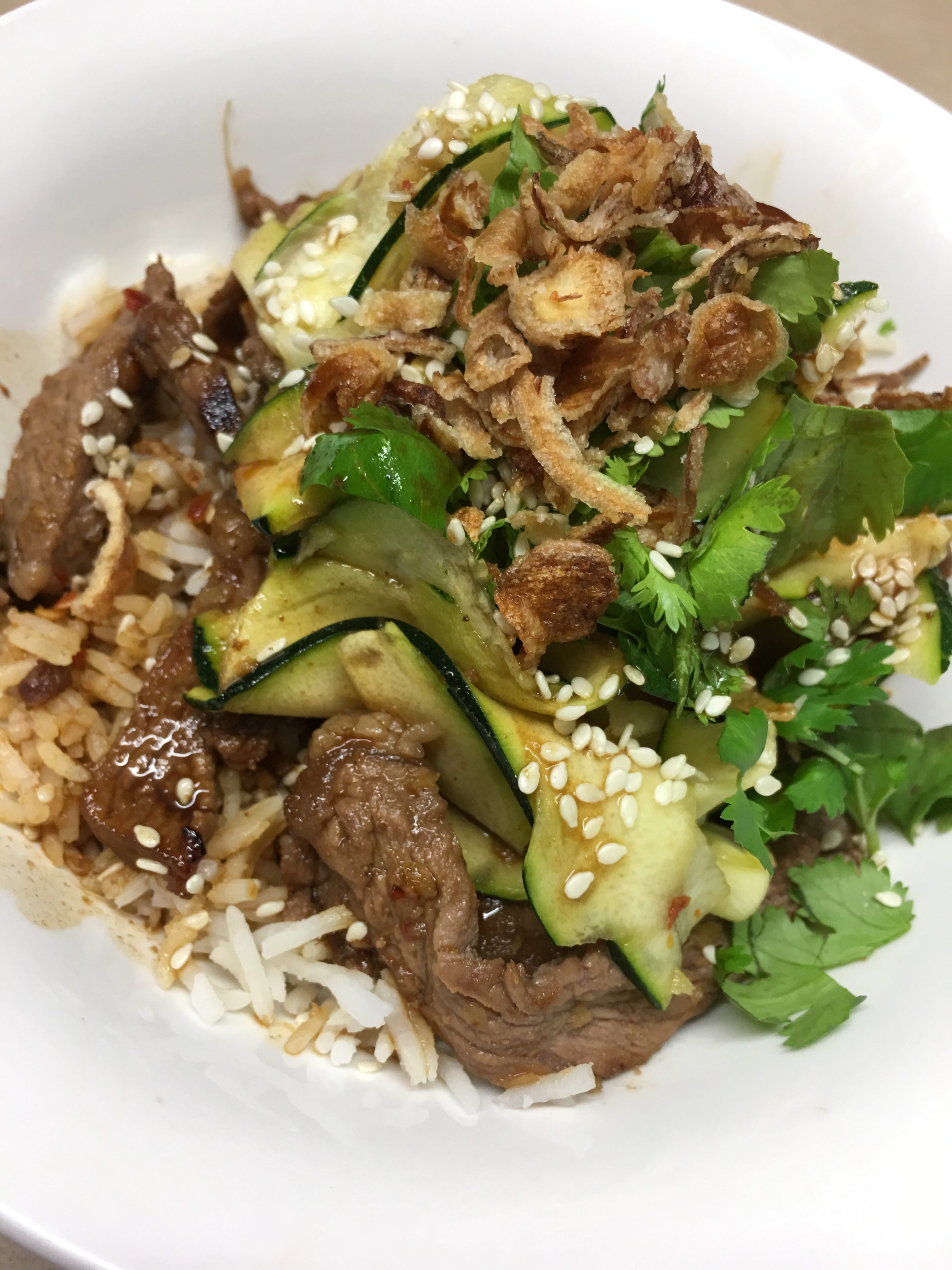 1 medium zucchini (courgette)
250g steak (two small steaks or one large one)
Marinade:
1-2 Tbs white or brown sugar or honey, to taste
4 Tbs water
4 Tbs soy sauce
2 tsp grated fresh ginger
Juice 1 lime or ½ a lemon
Pinch chilli flakes, or fresh diced chilli, to taste
2 tsp sesame oil
To serve:
Steamed rice
3 Tbs roughly chopped coriander
1 tsp sesame seeds
1 Tbs dried shallots (available in the Asian section of most supermarkets)
Place sugar and water in a saucepan and bring to the boil, stirring to dissolve. Add soy sauce, ginger, lime juice, chilli and sesame oil. Using a vegetable peeler, slice the zucchini  into long, thin ribbons. Cut steak into thin slices downwards, across the grain. Marinate the zucchini in half the dressing and the meat in the other half for about 5 minutes.
Drain meat (keep marinade) and stir fry in a large non-stick frying pan over high heat for 2-3 minutes. Drain the zucchini and keep the marinade. Place some steamed rice in two serving bowls. Top with the meat, then the zucchini ribbons. Place both lots of reserved marinade in the frying pan, bring to the boil, then pour over the top.
Garnish with coriander, sesame seeds and dried shallots.
Serves 2