This light, refreshing salad, which serves two as a main course or four as a starter, is perfect as an evening meal in the warmer months. Make it when the corn is at its sweetest.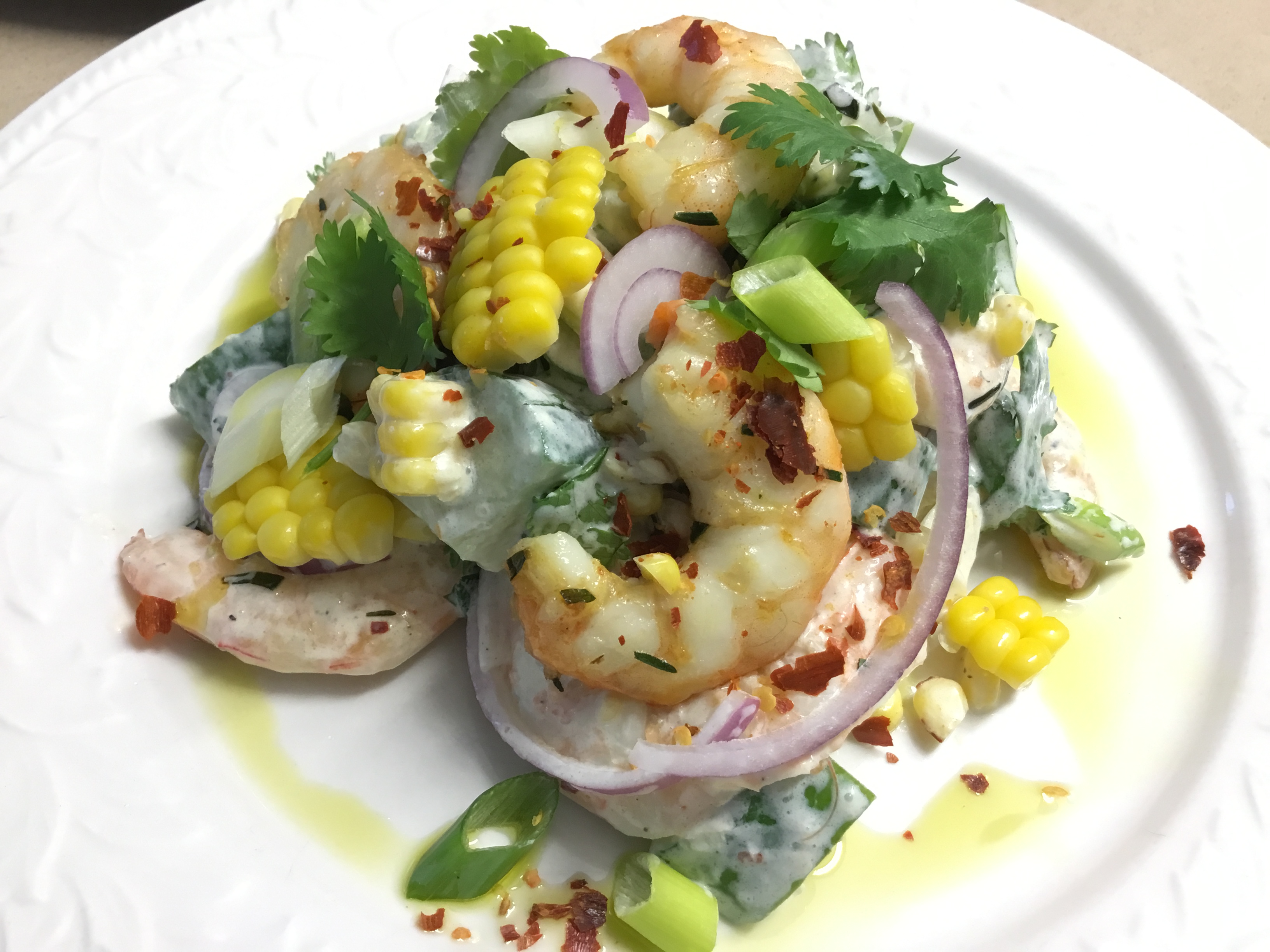 12-16 large raw prawns, shelled and deveined
1 Tbs oil
Salt and pepper to taste
Finely chopped fresh tarragon (or another fresh herb)
2 cobs of fresh corn
3 Tbs sour cream  (or plain yoghurt or coconut cream)
1 Tbs lemon juice
1 Lebanese cucumber, quartered lengthwise then sliced
2 spring onions, thinly sliced on the diagonal
½ small red onion, thinly sliced
3 Tbs coarsely chopped fresh coriander
3 Tbs coarsely chopped fresh mint
Finely chopped fresh chilli, or a pinch of dried chilli flakes, to taste (optional)
Extra virgin olive oil
Lightly season prawns on both sides with salt, pepper and finely chopped fresh tarragon. Heat oil in a small frying pan and fry prawns for 2-3 minutes each side. Turn off the heat and leave to cool. Cook corn cobs in boiling water to cover for 7-10 minutes then drain and cool.  With a very sharp knife, cut the kernels off the cobs, leaving some joined together.
Mix sour cream with lemon juice. Add the cucumber, spring onions, most of the red onion, most of the herbs, most of the corn, chilli to taste and seasoning to taste. Arrange on serving plates, then arrange the prawns on top and garnish with the remaining red onion, corn kernels and herbs. Drizzle a little oil around each serving.
Serves 2 as a main course or 4 as a starter
Substitutions: use cooked, peeled prawns instead of raw ones